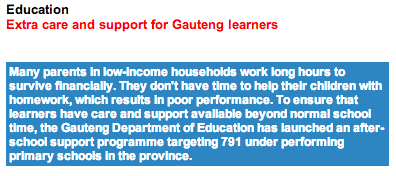 The programme is aimed at providing primary school learners with an extra hour of supervised homework and one hour of supervised play or physical education after school every day. 
Homework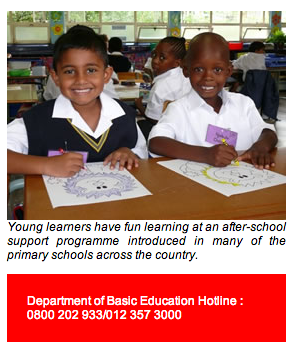 The department has recruited and trained part-time workers to provide homework assistance, as well as sporting activities in partnership with the Extended Public Works Programme of the Department of Infrastructure Development.
The duties of these homework assistants are to ensure that learners do their homework and that they arrive on time. They also facilitate studying, check homework, discuss progress and challenges in completing homework, sign homework books, keep an attendance register and report on successes and challenges.
Participation
The launch of programme comes after the department recognised that parents in low-income households don't have time to help their children to do their homework and that some children are from child-headed households. These learners either have no support with their academic work or do not have space to do their homework because of overcrowded living conditions.
Speaking at the launch of the programme at Nqubela Primary School in Thokoza, Gauteng MEC for Education Ms Barbara Creecy said this initiative would maximise learner participation in other activities by giving them access to arts and culture projects. In addition, the programme will introduce sporting codes that schools were not previously exposed to such as rugby, football, cricket and netball.
All activities will take place after school and end at 16:00 each weekday. Scholar transport and school nutrition will be adjusted to align with the programme