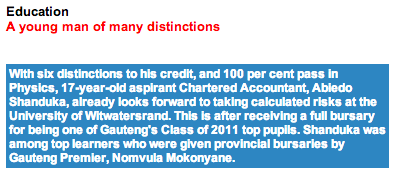 Shanduka, who will be studying towards an Actuarial Science qualification, comes from Meadowlands Secondary School in Soweto, which was marred by disruptions last year. But thanks to his commitment and the intervention from the Gauteng Department of Education, he was able to defy the odds to emerge number one for his school. 
Hard work and focus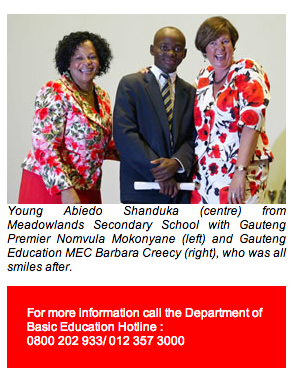 Shanduka attributed his achievements to hard work and focus. "There were lot of disruptions at our school last year but I decided to not let them get in my way. I studied hard and my dedication finally paid off, "he said. The humble teenager also credited the Secondary School Improvement Programme, which was launched by the Department of Education in 2010, for his success. 
The programme targets learners from underperforming high schools across the province and provides them with extra tuition support. This intervention has borne fruits as the province achieved 33 989 distinctions, with 6 109 distinctions from township schools.
Support your kids
Shanduka's jubilant father, Lloyd Mamali, said he was overwhelmed with joy over his son's achievements. "I cannot begin to express my pleasure considering the problems that the school encountered last year. I am very happy he did not let obstacles derail him," he said. Mamali encouraged other parents to be supportive of their kids and always be there for them during difficult times.
For his efforts, Shanduka received a laptop, a Blackberry cellphone and a printer, which will be a great help with his studies. Gauteng MEC for Education Barbara Creecy congratulated Shanduka and said the results are a true reflection of the cooperation, support and teamwork among learners, educators, department officials, parents, communities and stakeholders