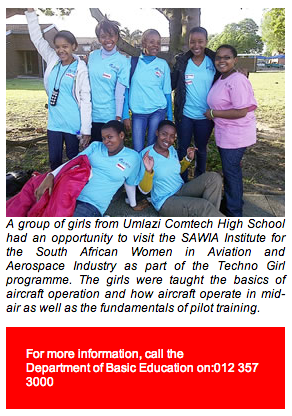 Techno Girl is an initiative piloted by the Department of Basic Education, in partnership with the United Nations Children's Fund and Uweso Consulting. It aims to help young girls from disadvantaged backgrounds to pursue scarce careers most urgently required in South Africa. The programme focuses exclusively on careers in the fields of science, technology, engineering and mathematics. 
The Techno Girl programme identifies young women in underprivileged schools and involve them in corporate mentorship and skills development initiatives. The career mentorships help them gain confidence and link their school lessons to the skills they'll need to succeed in the working world.
"Approximately 4 000 disadvantaged girls from public schools are placed in a structured job-shadowing programme for three consecutive holidays annually over a period of four years," said Uweso Consulting's CEO, Staff Sithole.
Career guidance
The Techno Girl programme was first launched in 2009 by the Gauteng Department of Education and was extended to the other provinces in 2010 and 2011. Girls start with the programme when they enter Grade 9 and exit on completion of Grade 12.
A Grade 11 learner at Cosmo City Secondary School, Tshegofatso Mokoena, said the programme had boosted her self-esteem. "This programme made me realise how the corporate world works and now I am ready to face it," she said. "It also gives us career guidance and motivational discussions."
Selection criteria
To ensure that the right learners are selected to participate in the programme, the following selection criteria apply:
all beneficiaries should be girls from disadvantaged communities
only girls in Grades 9, 10, 11 and 12 are eligible for selection
applicants must be from public schools
applicants must obtain at least 50 per cent (level 4), in maths/maths literacy
applicants must have a good behavioural and disciplinary record
applicants must be dedicated learners who have a keen interest in their academic performance.