Alcohol and substance abuse contributes towards many ills such as crime, gangsterism, domestic violence and other social problems, said Minister of Social Development, Bathabile Dlamini.
We therefore believe that the magnitude of this problem requires collective national action across all spheres to deal with it. This sense of unity must be characterised by a coordinated and integrated approach that drives us towards a drug-free society."
To achieve this, the Department of Social Development will join forces with the departments of basic education, higher education and training, trade and industry and the police to work on a five-year joint anti-alcohol and substance abuse programme of action.
Lasting solutions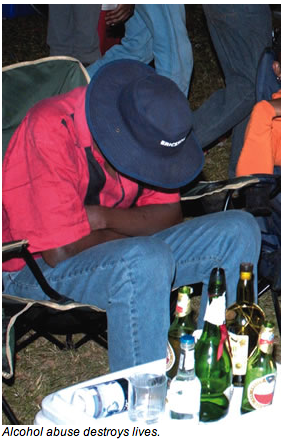 The five year programme is a result of decisions taken at the second Biennial Anti-Substance Abuse Summit held in March last year in Durban where different sectors of society discussed lasting solutions to the problem of alcohol and substance abuse.
Minister Dlamini said the Durban summit had resolved that all laws and policies relating to alcohol and substance abuse had to be brought together to address various related issues. These include effective governance of alcohol regarding production, sales, distribution, marketing, consumption and taxation.
It will comprise measures such as reducing accessibility to alcohol by raising the legal age for buying and public consumption of alcohol from 18 to 21 and restricting the times and days of the week that alcohol can be legally sold throughout South Africa, the Minister said.
The summit also resolved to increase the criminal and administrative liability of individuals and institutions such as bars, clubs, taverns, shebeens and restaurants that sell liquor to under-age drinkers.
Social grants
Minister Dlamini said government was concerned about the abuse of social grants in some communities to buy alcohol. She said during a visit to the community of Strydenburg in the Northern Cape late last year, alcohol abuse was evident in some families.
"Our visit was in the morning and the elders in that family were already drunk. It is worrying because this seemed to be a daily habit in some families; they largely depend on social grants for an income, yet there was no food in the house. The possibility is that they may use some of the income form social grants to buy alcohol. It is incidents like these which propel us to heighten the fight, especially against alcohol abuse."
With the five-year programme of action in full swing, the Department of Social Development will focus on:
reviewing policies and aligning liquor legislation
education and creating awareness about substance abuse
promoting equal access to resources throughout South Africa
responding to policies and legislation regarding drugs and organised crime.
- Mbulelo Baloyi