Sport & recreation
Banyana get ready to shine at Olympics
Judging from Banyana Banyana's excellent performance since the end of last year, the South African women's team is sure make us proud at the Cyprus Women's Cup from 28 February to 6 March. They are scheduled to take on some of the leading football nations.
While Banyana Banyana is preparing to shine the 2012 London Olympics in July, the Cyprus Women's Cup is the team's immediate priority. The fifth edition of the Cyprus Cup will feature defending champions Canada, Italy,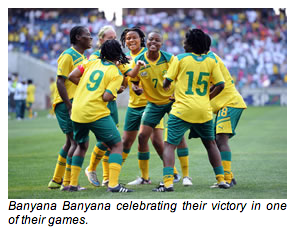 Netherlands and Scotland in Group A.
Group B features England, Finland, France and Switzerland while Group C features Korea Republic, New Zealand, Northern Ireland and South Africa.
The fourth-place teams from Groups A and B will meet the top-two teams from Group C to determine 7th/8th and 9th/10th places while the bottom-two teams from Group C will meet on 6 March to determine 11th/12th places.
Player of strength
Banyana vice-captain and striker Noko Matlou, who has scored 52 goals in her 64 appearances for the national team, said, "We have been working really hard at training and are looking forward to competing at the Cyprus Women's Cup; many of the teams that we will meet there will also be in action against us at the 2012 London Olympics in July."
Speaking in Stellenbosch where the 23 national team players underwent extensive training, Banyana coach Joseph Mkhonza stressed the importance of having players of strength.
"The top women's football nations in the world have physically strong players and we were found lacking in this department in the past hence our focus on power training during this camp.
"We have spent quite a bit of time on gym work at our training camp here at the Stellenbosch University Sport Performance Institute, where the conditioning of our players is carefully monitored by our team's physical trainer, Warren Engelbrecht," he said.
On a winning spree
Since Mkhonza took charge of Banyana shortly before Christmas last year, the Senior Women's national team has won 14 of the 18 matches they played.
They also qualified for the 2012 London Olympics, as well as reaching the semi-finals of last year's All-Africa Games.
The All-Africa Games effort was a major feat with Banyana Banyana having had to field two sides on the African continent on the same day.
On September 14 last year, Banyana Banyana played Ethiopia in the return away leg Olympic Qualifier and their semi-final All-Africa Games match against hosts, Mozambique. 
This was a clear sign of the depth created in women's football in South Africa through the Sasol League that is played in all nine provinces.
-BuaNews