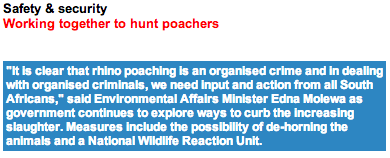 Minister Molewa strongly condemned the ongoing scourge of rhino poaching, which has seen a staggering number of 448 rhinos illegally killed in South Africa last year alone and 24 since January this year. "It is clear that we need to continue working with all stakeholders and our entire South African society, if this war on rhino poaching is to be won."
Molewa gave the assurance that government viewed the illegal killing of this national treasure in a very serious light. "We will continue to prioritise our fight against this crime jointly with our law enforcement agencies."
Most of South Africa's rhino population is in the Kruger National Park, which has faced an onslaught from poachers. Government will therefore deploy an additional 150 rangers to the Kruger Park this year, to add to the current 500, to address this crime.
To de-horn or not
Minister Molewa said a study conducted had indicated that the decision on whether or not to de-horn a rhino population depended on a number of factors, including the level of poaching threat, the availability of funds and the size of the rhino population in question. 
A continuing study commissioned by government will also look into whether legalising trade in rhino horn could help to bring down poaching.
National Reaction Unit
Other measures include the establishment of a National Wildlife Reaction Unit, which authorities are hoping will help in information sharing and curbing poaching in South Africa's largest parks.
Molewa said the South African National Defence Force has also been returned to monitor the 350-kilometre national border in the Kruger Park.
-BuaNews