Written by *Linda Page and Amukelani Chauke
Rural Development and Land Reform Minister Gugile Nkwinti announced that the Banking Association of South Africa (BASA) will invest R1 billion  in agri-parks annually to revive the rural economy.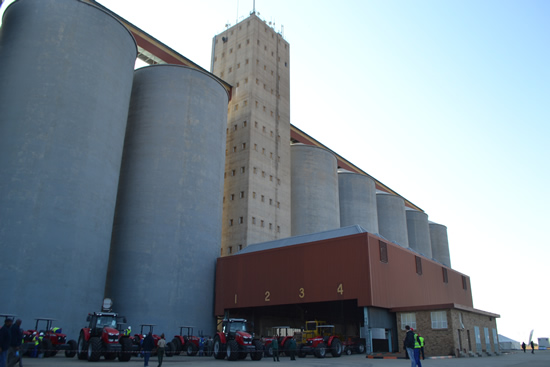 Previously the government had announced that it would invest R2 billion into supporting rural economies and creating industries in these areas.
Agri-parks have been identified as the vehicle that will kick-start rural economic transformation and encourage growth of the smallholder farming sector –  an area that has seen slow growth due to a lack of resources, including markets for the sale of produce, livestock, skills and infrastructure.
The creation of agri-parks will breathe new life into South Africa's rural areas, revitalise small towns, increase employment and contribute to food security.
Once operational, agri-parks will create close to 90 000  in value addition activities linked to various Agri-Park components. This excludes the contribution that will be made towards the establishment of 300 000 smallholder farmers.
"I must say that since we started this programme, there have been a lot of encouraging developments.
"The Banking Association of South Africa came forward and said it is getting involved and will invest R1 billion into land reform, every year, over the next 15 years.  "It is encouraging. We are working with them to develop a model for agri-parks," he said. (See Errata below)
The Minister said the involvement of the banking sector will further give credibility to the agri-parks project as government aims to ensure that poor people work closer to home,  instead of migrating to bigger cities in search of economic opportunities.
 He is convinced, that over the next 10 years, the country will have a different rural community, one which will have some enterprises and industries.
"It also provides us with the opportunity to invest in the underdeveloped side of the economy.
 "We want to spend more money there. Starting this year, we are putting R2 billion in all 44 districts so that we can transform the economy in those areas because they provide us with the opportunity we need to create jobs.
 "You are never going to stop migration if you don't invest in rural areas. We need to do something where people live so that we can create a balance between the developed and underdeveloped areas."
 He said BASA's involvement also added an additional security feature to the entire project.
Progess made in rolling out Agri-parks
The Minister said that a lot of progress has been made in rolling out agri-parks around the country.
The idea behind agri-parks is to focus on agro-processing to create jobs and boost exports. Some of the planned agri-parks are linked with the Department of Trade and Industry's Special Economic Zones.
"One agri-park is ready to be launched in the North West. Production plans have been developed and are being implemented across the country to ensure increased production in the areas supporting the agri-parks.
"The Department of Science and Technology is busy with a feasibility study on agro-innovation hubs that will support the development and dissemination of appropriate technologies to be implemented in agri-parks," he said.
 He said that  12 221 smallholder producers were supported through advisory services, training, technical support and infrastructure from April to June 2015.
Minister Nkwinti said that 36 additional farms are being supported under the Recapitalisation and Development Programme.
The Recommissioning Strategy for the Western Cape forestry exit areas has been approved to put about 22 000 hectares of state forestry land back into commercial forestry operations.
"The resultant benefits range from job creation, local economic development and future improvement in timber supply.
 "According to a study that was commissioned by the Department of Agriculture, Forestry and Fisheries and the Independent Development Corporation, the recommissioning of Western Cape plantations will employ 350 full-time workers for the five-year period.
"This number will increase to 1500 when the plantations are in full production."
*Linda Page works in the Ministry of Rural Development and Land Reform
ERRATA
We erroneously reported that the Bank Association of South Africa (BASA) would invest R1 billion in agri-parks annually to revive the rural economy.
BASA has in fact made an in-principle commitment of R1 billion per annum for the next 15 years to support the land reform program of the department NOT the agri-parks initiative.
It should however be noted that government has allocated an amount of R2 billion for the agri-parks program for the current financial year, this is not to be confused with the in-principle commitment
by BASA as indicated above.