Written by Noluthando Mkhize
Mineral Resources Minister Mosebenzi Zwane spread some joy in Lephalale, Limpopo, when he handed over houses built for mineworkers.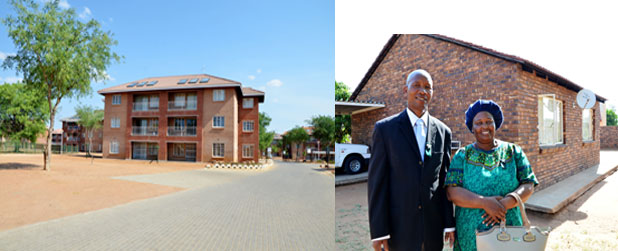 The houses are part of Exxaro's Grootegeluk coal mine's Social and Labour Plan (SLP) commitment.
An SLP is a prerequisite for the granting of a mining or production right under the Mineral and Petroleum Resources Development Act (MPRDA).
The R590 million Lephalale Housing Project consists of units that are available to rent and to buy, creating a sustainable town.
The Lephalale Housing Project consists of units that are available to rent and to buy, creating a sustainable town.
"The Mining Charter requires companies to facilitate home ownership options for mine employees. I wish to congratulate this mine for selling 608 company-owned houses and 113 plots of land to employees and the public," said Minister Zwane during the official handover of the completed houses.
The housing project is in line with revitalising distressed mining communities.
President Jacob Zuma appointed an Inter-Ministerial Committee (IMC) shortly after the Marikana tragedy in which over 44 people lost their lives during labour unrest at the Lonmin Mine in the North West in 2012.
The IMC is tasked with overseeing the process of ensuring that mining towns are transformed and uplifted, and that there's improvement in the living and working conditions of mine workers.  
The Lephalale Housing Project began in 2009 and more than 160 houses were built along with 579 flats.
"The conversion of hostels into single room units is indeed welcomed. I am also pleased that the houses will not only benefit mine employees  but also community members, so that we begin to create more integrated communities," said Minister Zwane.
Lephalale Housing Project:
The total cost of the project was R590 million.   160 houses built.   579 flat units built.
Better living conditions for miners
Mine worker Petros Thako (63) said it was a dream come true for him to be able to live with his wife on the mine.
"I have been working for Exxaro for 30 years. Before we moved into the new units we were staying in hostels. The difference with living in the new apartments is that there is privacy and I can live with my wife.
"In the old hostel I used to share a small one room space with another person," said Thako.
Thako, who originates from Mokopane, pays R425 per month to rent a bachelor unit.
He also receives housing subsidy from the mine.Enoch Sepoloane, also working at the mine, opted to buy a three-bedroom home from the mine, which he shares with his wife and six children.
Sepoloane also agrees with Thako that, as a miner, he did not think he would be able to live with his whole family on the mine.
"Whenever I experience any difficulty at work I am happy that at the end of the day I get to go home to my family."
Johan Wepener General Manager for Exxaro said the company was receiving very positive feedback from the workers.
"Most workers are coming to us and saying the new housing units are a massive upscale to what they had before."
"We will try and continue to build habitable accommodation for mine workers.
More houses on the cards
Exxaro has also unveiled the Extension 86 housing project, also in Lephalale.
Wepener said most of the groundwork to start the construction of the houses has been done.
"Four types of houses will be built and the sizes will range from 45 square metres to 120 square metres, based on affordability, because we are targeting the lower end income workers."
He said local contractors will be used to build the houses to create jobs in the area.
"About 80 per cent of resources used during the project will be from the local community.
"The first phase of the development will consist of 50 units that will be built and sold to the people. As interest grows we will increase the number of units on an annual basis."
This section phase of the housing project is expected to be completed in 2019.