Written by Thandeka Ngobese
The lives of residents of Ezinga (Impendle), outside Pietermaritzburg, will be changed for the better following the launch of four communal estates in the area.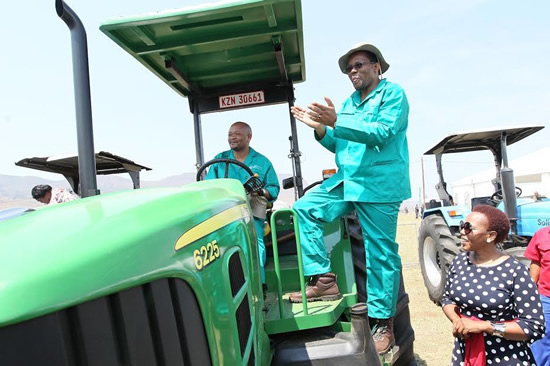 The estates aim to encourage the community to participate in the agricultural economy.
The investment came after the KwaZulu-Natal (KZN) Provincial Government relooked at the way in which it structured its programmes to focus on creating food security and turning agriculture into a science and a business.
The launch forms part of government's Comprehensive Rural Development Programme (CRDP) that aims to tackle issues such as underdevelopment, food security, unemployment, poverty and other social ills, which have become synonymous with rural areas.
A total of R15 263 660 will be invested in Impendle with each cooperative receiving three tractors, a cheque for approximately R400 000 for a tractor and driver running costs, and farmer and extension service support.
KZN Premier Senzo Mchunu and MEC for KZN Agriculture and Rural Development Cyril Xaba visited the four cooperatives that are beneficiaries of the initiative - Impendle Cropping, Sthujwana Project, Indabuko Project and Ntshiyabantu Project. They also visited other farming sites.
An upbeat Premier Mchunu said that the programme is only one pillar in the KZN Department of Agriculture and Rural Development's strategy.
"There is still more to be done in the province regarding all forms of agriculture. I urge the people of the province to take part in the sector as it offers great opportunities," he said.
MEC Xaba said the launch of the programme was only the beginning and that the department was making strides to change the face of agriculture in the province.
"The department has monitoring mechanisms in place to oversee the day-to-day running of these cooperatives. It really wants to ensure that these two economies merge. We are on a campaign to turn the province green and ensure all farmers participate in the province's and country's economy," said MEC Xaba.
Phindile Mncube, of Indabuko Cooperative Project, said the provision of tractors would help them increase their project's food production.
"We used to hire tractors which were costly. This made us plant on a small portion of land, but this will be thing of the past as we have our own tractors," she said.
Mayor Sizwe Ndlela said the Impendle local municipality was very privileged to be visited by provincial government for such development.
"The people of Impendle solely depend on the agricultural economy to provide for their families. As a result the municipality has provided a big machine to grind maize meal to make mealie meal," he said.