Written by *Estelle Coetzee
The Department of Correctional Services (DCS) is working hard to ensure that it builds a community of responsible offenders who can contribute to the economy of the country while advocating for safe, and peaceful, communities. The department's skills development programmes and opportunities, aim to provide offenders with a second chance to correct their offending behaviour.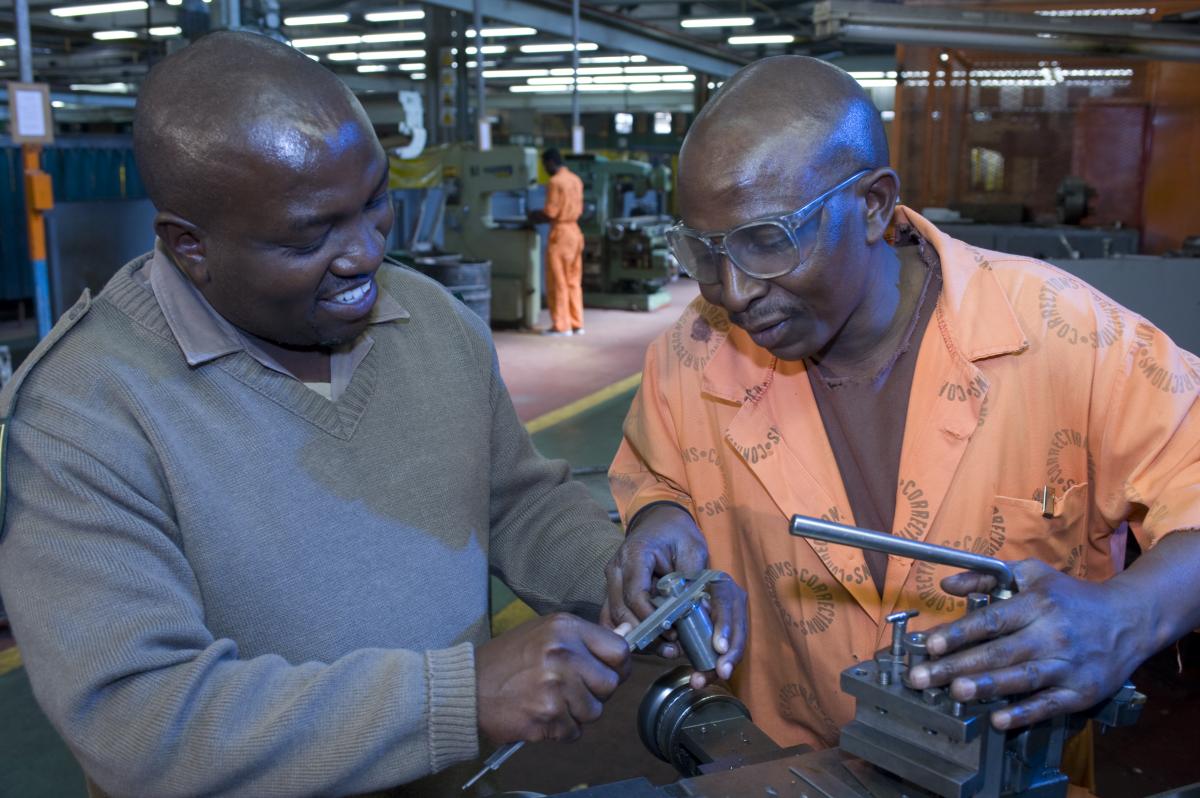 National Commissioner of the DCS Zack Modise said through skills development programmes his department wanted to build a community of responsible offenders who can contribute positively to their communities.
"We want to ensure that, upon release, every offender carries a sense of worth and a skill that will ensure self-sustainability, taking into account socio-economic and cultural backgrounds."
At the end of the 2014/15 financial year, DCS had provided vocational training for 1 728 offenders in the agriculture, construction, food and beverage, computer, electrical, motor mechanics, textile production, welding and woodwork sectors.
All the courses that inmates attended have a module on entrepreneurship and they are encouraged to be self-employed once they are released.
The training is funded by the Department of Higher Education and Training (DHET).
This was a result of a five-year agreement, dating back to 2011, in which more than R66 million was given to DCS to train over 5 000 offenders.
The DCS was hoping to stretch this budget by training more than 7 000 inmates at the end of the five-year period.
As of May 2015 about 4 032 female offenders were incarcerated in different correctional centres across the country.
Carmen Smith is (45), who was convicted of fraud, is one of the inmates receiving skills development training from the Department of Correctional Services (DCS). Smith plans to start a catering company when she is released from Pollsmoor Correctional Centre in Cape Town.
 "My life was spiralling out of control when I defrauded my customers. It was in here [Pollsmor Correctional Centre] that I came to my senses.
Inmates are receiving training in agriculture, construction, food and beverage, computer and electrical to name a few.
"Now I will have to start all over, but what I will do differently this time is empower other women," she said. Smith is one of the 76 female inmates who received training in building, construction and plastering, assistant chef training and beadwork.
She completed the assistant chef course, which earned her 53 credits towards an assistant chef certificate.
In order for Smith to take part in the training programme she needed to have a valid South African identity document and have completed Grade 9 or the Adult Education and Training (AET) level 4.
Ruth Mbana (38) also an offender at Pollsmoor Correctional Centre decided to enrol for the building course even though she is a qualified carpenter.
"Government is sympathetic towards women who want to make it in the building trade and being in a correctional centre is not the end for me," she says.
*Estelle Coetzee works for the Department of Correctional Services.