Written by Noluthando Mkhize
Faster and more efficient access to health facilities is now a reality for communities in Limpopo following the handover of ambulances to hospitals in the province.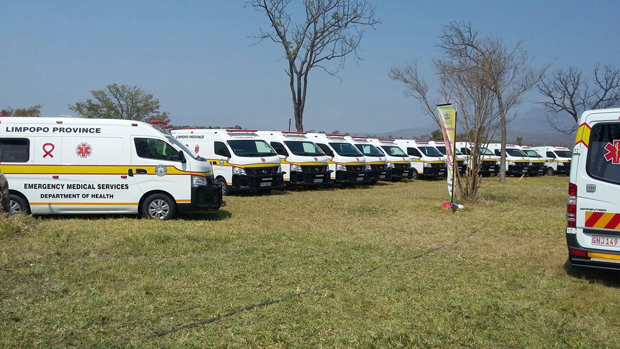 Premier Stanley Mathabatha and the MEC of Health Dr Phophi Ramathuba recently handed over 60 brand new ambulances, four forensic vehicles and a fully equipped laundry to Sekororo Hospital.
The Department of Health recently acquired 100 new ambulances. The arrival of the new fleet will ease the burden of the shortage of emergency medical services (EMS) vehicles, as a result of the existing aging fleet.
The  new vehicles aim to ensure that the province eventually meets the national EMS norms regarding a response time of 15 minutes in urban areas and 40 minutes in rural areas.
Limpopo is largely rural and the ambulances are expected to ease the challenges faced by people from far-flung areas.
"The province made an assurance during the departmental budget speech earlier this year to prioritise the procurement of ambulances so that the people of Limpopo benefit from these services and their quality of health is improved," said Premier Mathabatha.
"This is the first batch of ambulances acquired and the rest will be delivered later, as committed in  the 2015/16 departmental budget vote."
"The arrival of these ambulances will certainly have a positive impact in the lives of the people of Limpopo and lessen the challenges experienced by communities regarding emergency medical services."
The ambulances will be shared among all five provincial districts.
Some of the new ambulances will be converted into obstetric ambulances to ensure that women in labour reach health facilities in time to deliver their baby safely.
The special obstetric ambulances differ from other ambulances in that they meet the specific demands of a pregnant mother and carry equipment needed in case a mother gives birth in transit.
Having such ambulances in health facilities came about after Health Minister Dr Aaron Motsoaledi launched the Campaign for Accelerated Reduction of Maternal Mortality in Africa in 2012.
At the time he recommended, among other things, the procurement of obstetric ambulances, which will help to reduce maternal mortality and achieve universal access to reproductive health.