Written by Bathandwa Mbola
International relations
South Africa has committed to using its chairpersonship of the Open Government Partnership (OGP) to develop and implement ambitious open government reforms.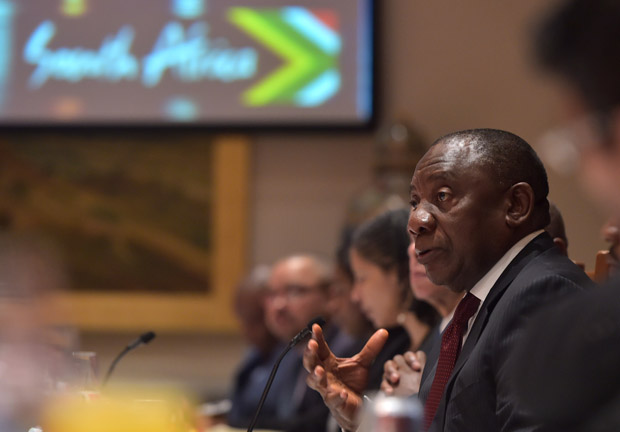 South Africa and France assumed the OGP chair in Mexico recently.
OGP was launched in 2011 to provide an international platform for domestic reformers committed to making their governments more open, accountable and responsive to citizens. Since then, OGP has grown from eight countries to 66.
Speaking at the OGP summit in Palacio de Bellas Artes, Mexico, Deputy President Cyril Ramaphosa said during SA's tenure, South Africa will ensure that the OGP and its principles of open government remain a cornerstone of global efforts towards a sustainable future for humanity.
"It is important that the OGP consistently lead by example. It must be the embodiment of the values and principles we wish others to emulate," he said.
The Deputy President said there are many lessons South Africa will share from the African continent to strengthen internal mechanisms to ensure greater transparency and inclusive participation.
During its tenure, Deputy President Ramaphosa said South Africa intends to lead efforts and a conversation between governments to renew the vigour and political commitment that characterised the founding years of the OGP by proposing, among others, a standard annual parallel gathering of the Heads of State and Government on the side-lines of the United Nations General Assembly.
South Africa also intends to ensure the optimal functioning of the Independent Review Mechanism by promoting initiatives that will ensure that National Action Plans reflect the commitments made in the OGP Declaration and promote goal 16 of the UN 2030 Agenda on Sustainable Development.
Further, it aims to create more space for South-South cooperation and sharing of lessons, resources and experiences in implementing the OGP.
This, Deputy President Ramaphosa said, will be done by engaging and promoting closer engagement with the G77 countries but will not be done at the detriment of North–South cooperation and collaboration. 
Another target was to ensure that the OGP remains true to its cardinal principles of voluntarism, and that it does not become a tool of punishment but rather a platform for mutual learning and experience sharing in developing interventions that put people at the centre of development.
South Africa also intends to create platforms for experience sharing and best practice learning from other similar experiences and mechanisms such as the African Peer Review Mechanism (APRM).
Deputy President Ramaphosa believed that the OGP can learn from how the APRM operates.
The APRM is a self-monitoring instrument created by African leaders in 2003 as one of the ways African leaders respond to calls for good governance in an innovative approach designed and implemented by Africans for Africa.
Deputy President Ramaphosa told the summit that the through the APRM, the African continent contributed significantly to the formulation of the goals and targets of the UN 2030 Agenda on Sustainable Development.