Written by Edwin Tshivhidzo
International relations
South African businesses and investors have been urged to make the most of the opportunities available in Mozambique, especially in light of the newly discovered gas reserves in the neighbouring country.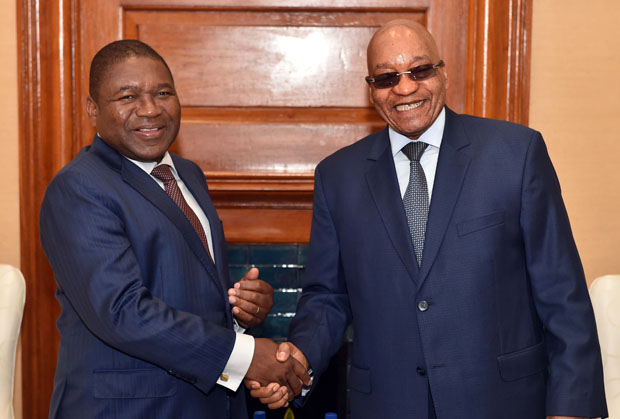 The South Africa-Mozambique Business Forum met recently where commitments were made to up cooperation across various fields. The forum was attended by the two countries' Heads of State and key figures in the business arena.
The delegations identified tourism, transport, communications, science and technology as some of the strategic areas of cooperation. However, collaboration in unearthing business potential in energy and mineral resources took centre stage.
"South Africa and Mozambique boast a long standing cooperation in the field of energy.
"The energy cooperation between the two countries is characterised by sharing of energy and power resources, focusing on power plants and related infrastructure undertaken by Eskom and EDM [Electricidade de Moçambique], as well as the natural gas business to advance the development of gas to power projects.
"Mozambique offers great possibilities considering the newly discovered gas reserves. Our Ministers will ensure the implementation of our agreements in the energy sectors, particularly in oil and gas sectors.
"There are opportunities for South African companies to enter the Mozambique hydrocarbons sector in ways beneficial to both countries," said President Jacob Zuma.
The Mozambican energy sector received an estimated $3.238 billion investment for just five projects investment in 2014. CPI data shows that the sector accounted for 45.6 per cent of total investments approved by the Mozambique Investment Promotion Centre. Investments are said to have reached $7.102 billion for 487 projects.
The International Monetary Fund (IMF) estimates that coal and natural gas production could potentially increase Mozambique's economic growth rate by two percentage points annually from 2013 to 2023. The IMF also estimates that Mozambique grew by seven per cent in 2013. Mozambican President Filipe Jacinto Nyusi said he was happy to partner with South Africa.
"South Africa is our neighbour and we are looking forward to doing business together," he said.
In 2014, total trade between South Africa and Mozambique was recorded just below R44 billion, increasing from R29 billion in 2012. South Africa has emerged as the main trading partner for Mozambique and its main source of foreign direct investments.
Over 300 South African companies have invested in Mozambique and it is now part of the top five of South Africa's trade partners in the region.
President Zuma said the scope to further growth remains, hence the business forum was convened.