Local government
Christmas came early this year for Poppy Mabena (56) and her seven grandchildren.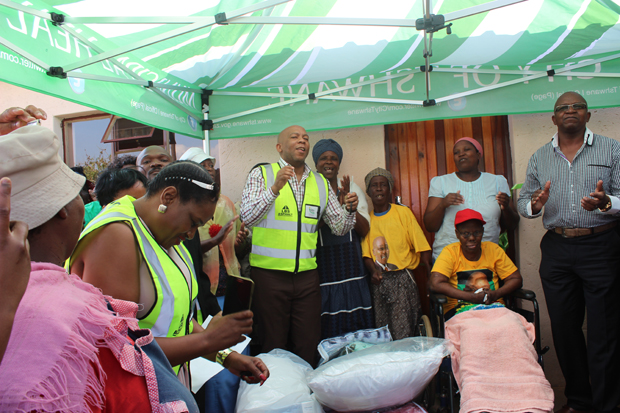 The disabled woman had been living in a two-roomed shack for a long time. During the rainy season, the shack would get flooded and the family's biggest fear was that it would collapse on them one day.
"I remember one rainy day very well. We all had to stand on top of the table because the shack was flooded and we could not sleep," said Poppy's 22-year-old granddaughter, Phumzile Sonto Mabena.
Now the family is able to sleep comfortably in a newly built five-roomed house and Poppy is able to live a normal, dignified life with her grandchildren.
"I feel great at the moment, I don't know what to say. I'm thankful to the mayor and all the people who played a role in building this house," she said fighting back tears.
The home has a ramp, two bedrooms, kitchen, lounge, dining room and a toilet. The ramp was installed to make movement easy for Poppy, because she uses a wheel chair.
The house was built as a result of a partnership between the City of Tshwane and private companies Jabulile Construction CC and Super Grand Agri Feed Cooperative.
Speaking during the handover Executive Mayor of Tshwane Kgosientso Ramokgopa said it is important for all sectors of society to work together because government alone cannot deal with all the challenges facing communities.
"We all have to work together including faith-based organisations, the youth, government, private sector and local businesses. If we all pull in the same direction there is nothing that we can't achieve," he said to loud cheers from a packed community hall in Section F of Ekangala, in Bronkhorspruit, east of Pretoria.
Ramokgopa added that the handing over of a new house will not be the only event taking place in the area.
"Our visit to Gog' Mabena's house is not the last time we will come to Section F. We will come back and make some major announcements about plans we have for this place."
He added that plans to construct a mall in Ekangala were at an advanced stage.
Construction of the house started on July 18 as part of honouring the legacy of former President Nelson Mandela.
Upcoming housing and human settlement projects in Tshwane :
The City, together with the Gauteng Department of Human Settlements, has identified mega projects, with a potential to yield more than 10 000 housing units in the next five years.
The R36.9 billion mega projects programme in Tshwane will result in the development of approximately 180 875 housing units in the next five years.
A mixed-income housing development taking place north of Tshwane that will cater for low- to middle-income groups. The development will yield 16 000 housing units, 1 300 of which will be RDP houses. It comprises six residential-zoned townships that will be built over seven years, with an estimated capital investment of R3.5 billion.
Another R5 billion mixed-housing development, being undertaken by a private developer, consists of 14 000 housing units to be produced over eight years in the Centurion area of Monavoni, which includes 1 400 RDP houses.
The City is partnering with various social housing institutions to provide affordable rental housing. A total of 5 355 affordable rental accommodation units, spread across Tshwane, are at various stages of planning.
Source: State of the Capital Address