Written by More Matshediso
Water and Sanitation Minister Nomvula Mokonyane has called on citizens to use water sparingly and responsibly because climate change has worsened the drought situation in the country.
The Minister also called on local government and those responsible for managing water to lead communities in using water wisely.
"South Africa is a water scarce country with highly variable rainfall and water runoff. To mitigate this situation, this requires pro-active and responsive risk management, coupled with innovative water security management interventions," said the Minister Mokonyane.
She explained that 98 per cent of the water in the country has already been supplied and it has to be reused. South Africa has had to draw some of the water from Lesotho.
Drought conditions are being experienced across the country due to prolonged lower-than-normal rainfall since the beginning of the year, and this has led to water shortages in a number of public water supply schemes or dams.
"So far, drought disaster has been declared in only two of the nine provinces … which are KwaZulu-Natal and Free State. Funding for specific drought mitigation measures have been received by only KwaZulu-Natal," she said.
Minister Mokonyane added that other drought stricken areas included the southern parts of Mpumalanga and selected areas in Limpopo, North West and Northern Cape provinces.
Limpopo's Provincial Executive Council has declared the province a disaster area through national prescripts.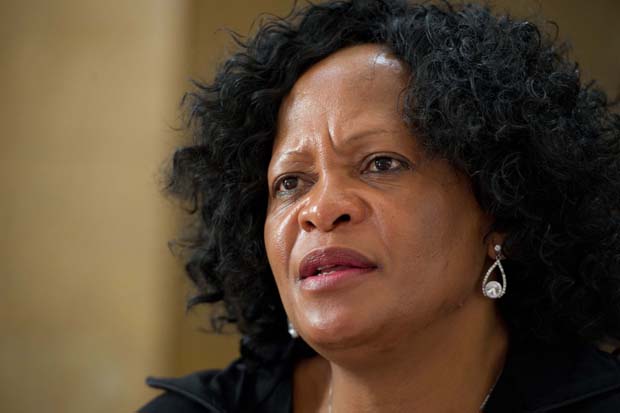 A thorough assessment of the draught situation found that all District and Local Municipalities in Limpopo are facing the worst draught conditions recorded in years. The declaration will help the Government to unlock the necessary resources to assist the affected communities.
Currently, the Limpopo Department of Agriculture and Rural Development has set aside R3 million to assist affected farmers through the provision of livestock feed. However, this amount does not cover other areas such as human consumption.
About 50 per cent of local water storage was a problem and could become critical if they are not managed carefully.
"The drought currently affects 173 of the 1 628 water supply schemes nationally, serving approximately 2.7 million households or 18 per cent of the national population," she said.
Measures to mitigate drought
Minister Mokonyane said to address and lessen the potential impact of drought there were immediate, medium- and long-term measures being put in place.
These include:
strict implementation of drought operating rules at all dams
increasing the water mix especially groundwater utilisation, rain harvesting
re-use of return flows and packaged desalination plants
reducing operational risks by proper infrastructure operation and maintenance with associated skills development
implementation of water conservation and demand management programmes and climate research as well as hydrological and geo-hydrological monitoring.
"The department has committed R352.6 million to the initial drought intervention projects and a further R96.620 million to interim tinkering and additional interventions," said Minister Mokonyane.
Provincial water levels
Free State
The Free State is generally in a positive water balance with the average dam water level at 67 per cent, but critical water areas are the central areas along the watershed relying on the water transfers from the Caledon River system.
"This system has experienced abnormally low flows in recent years. Water restrictions have been implemented for users in the Caledon River system, and releases from the Lesotho Highlands transfers into the Little Caledon River are being implemented to augment the system in the short-term," said the Minister.
Northern Cape
In the Northern Cape a total of 280 communities depend on groundwater because the province is located in a semi-desert climate and experiences low rainfall.
"Many of these towns are already using over 76 per cent of groundwater, potential and alternative sources of water are being investigated to reduce the risk of non-supply of water," she said.
The average water level in all dams in the Northern Cape is 53 per cent and water restrictions are currently being implemented.
Western Cape
In the Western Cape the average dam level is 70 per cent, which is low compared to last year because of lower-than-normal rainfall during the past winter.
Main drought impacts are on agriculture in the Vredendal, Garies, Bitterfontein areas, where the farmers have already applied for drought relief for their stock.
Gauteng
Most of Gauteng's water is supplied by the Vaal and Crocodile West River systems. Minister Mokonyane said the average dam levels are currently at 84 per cent and pose manageable short-term water security risk.
"No hydrological drought is experienced currently. A number of projects are however underway to address service delivery problems," she said.
The restrictions that have been implemented by Rand Water are as a result of the current high weather conditions, which could lead to a drought situation. The City of Tshwane implemented water restrictions in most towns due to the heat wave in October. While Joburg Water had not yet implemented water restriction, communities have been advised to use water wisely.
Eastern Cape
In the Eastern Cape, the water situation is generally good with average dam level at 78 per cent and most of the key dams are at full or close to full levels.
However, the Minister said there were areas of concern including Butterworth/Idutywa.
"Water restrictions should be implemented urgently to stretch the available water in the system."
Limpopo
The average water level of dams in Limpopo is 71 per cent with 12 of 24 dams above 80 per cent and four dams below 50 per cent. The recent construction of the De Hoop Dam is expected to bring relief to the rapid growth in mining and domestic water demands in the Sekhukhune District Municipality.
The Minister said the department will intervene in addressing challenges in Limpopo, to help local government to manage them.
Mpumalanga
In Mpumalanga, dam water levels are on average at 70 per cent. Minister Mokonyane said the drought stricken area is primarily located in the south bordering KwaZulu-Natal and Swaziland.
"Despite below average rainfall, the domestic water supply systems are still in good state," she said.
KwaZulu-Natal
In KwaZulu-Natal the average water level of the dams is currently 58 per cent of full supply capacity. Three of the 18 large water supply schemes are at risk, and 42 of the 117 schemes are affected by drought.
 "A plan of action has been developed, including drilling of boreholes, spring rehabilitation and packaged desalination plants. More than 150 tankers have already been deployed in 12 local municipalities," said the Minister.