Sport
All systems go for Afcon 2013
SAnews.gov.za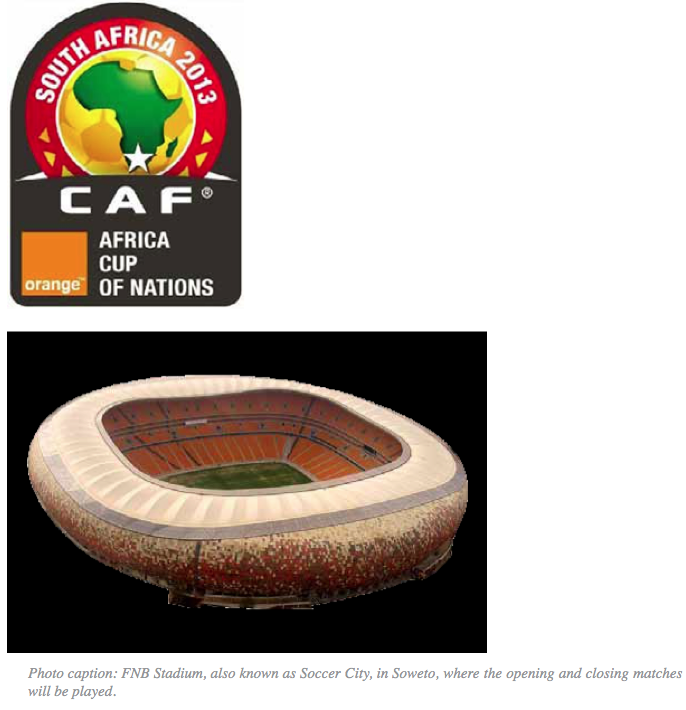 Government has reaffirmed its commitment to the hosting of the 2013 Africa Cup of Nations (Afcon) by finalising all its guarantees relating to the hosting of the tournament next year. Guarantees cover issues such as safety and security, healthcare services, transport and telecommunications. They are required so that the Confederation of African Football (CAF)
- as well as the African football community
- can be assured of a successful tournament.
Planning for the tournament, which will take place from 19 January to 12 February, has started in earnest with government pledging its support for the local organising committee (LOC) and the inter-ministerial committee (IMC) for the event. The LOC Board and the IMC are tasked with providing oversight, strategic support, planning and implementation of government's guarantees.
Commitment
Addressing reporters at a media briefing in Pretoria recently, Sports and Recreation Director-General Alec Moemi said all relevant government departments would have to sign on their deliverables as agreed between CAF and the South African Football Association (Safa).
A signing ceremony will be held before the Afcon final draw on 26 October. Moemie said this would be a demonstration of government's commitment to make a success of the tournament.
The LOC Board comprises 23 Safa members, seven ministers who are members of the IMC and seven representatives from business and civil society.
Departments represented in the IMC and involved in preparations for the tournament include Sports and Recreation, Home Affairs, Defence and Military Veterans, Cooperative Governance and Traditional Affairs, Finance, International Relations and Cooperation, Trade and Industry, Transport, Tourism,  Public  Works, Police, Health, State Security, Social Development and Communications.
Moemi said National  Treasury had finalised a budget for the official host cities. These are Johannesburg where the opening match as well as the final will take place at the FNB Stadium in Soweto, Nelspruit in Mpumalanga, Nelson Mandela Bay in the Eastern Cape, Rustenburg in North West and Durban in KwaZulu-Natal.
For more information, call SAFA: 011 494 3522