Smallholder farmers yield crops and jobs
Nthambeleni Gabara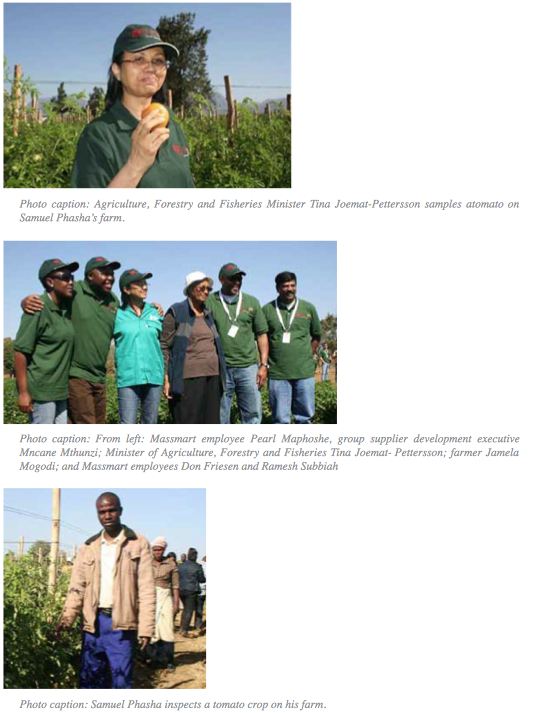 Farming in South Africa comes with many challenges for smallholder farmers who have minimal resources and skills to compete in the commercial environment.
A major challenge for Samuel Phasha, a 37-year-old farmer from Tzaneen in Limpopo, was the lack of a market where he could sell his fresh produce. He also needed a proper irrigation system and a new tractor, but couldn't pay for it.
However, since the Ezemvelo Massmart Direct Farm Programme came to his rescue, things started looking up for him. He has since improved his farming methods and gained skills to manage his business finances.
The Ezemvelo programme, which is being piloted in Limpopo, aims to develop and support small farmers to supply Massmart with fresh produce in Tzaneen.
It is a partnership between government and the private sector designed to enable smallholder farmers, mostly in rural areas, to improve production and access markets.
Training
"This season, I will harvest a butternut crop for Massmart. It is good to have the certainty of a market and it's good to have a buyer come to me," said Phasha, who has created 14 jobs for local residents on his farm at Ofcolaco near Trichardtsdal, outside Tzaneen.
Apart from butternut, he will supply tomatoes, cabbage, carrots, pumpkin, sweet potato, potatoes and onions to Massmart.
Phasha, who has been farming for 11 years (not "the past" 11 years – it's obviously not possible to farm in the future), also hopes to benefit from a three-year financial management training course as part of the Ezemvelo programme.
Access to markets
Another smallholder farmer in the area, Jamela Mogodi, 73, said the pilot project gave her more confidence to improve her production, adding that with a further year of support, she would be able to stand fully on her own.
Mogodi is currently growing green beans, butternut, tomatoes, dry beans and green peppers on 28 hectares of land. She has two tractors, including one she received from the provincial Department of Agriculture, a trailer, a plough, a dresser and a ridger.
Before joining the Ezemvelo pilot project, the retired nurse from Julesburg was selling her produce to the local market. Due to high transport costs and the cost of packaging materials, she struggled to access other markets further away.
"Through this partnership with Massmart, I will now supply various grades of vegetables to Cambridge Food and Game Foodco stores through Massmart's fresh produce division Massfresh."
Jobs for women
Speaking at the launch of the Ezemvelo programme, Agriculture, Forestry and Fisheries Minister Tina Joemat-Pettersson said small-holder farms were creating jobs for women in poverty stricken communities.
"What you have seen here today is a confirmation that smallholder farmers are creating jobs, even though they are not as recognised as commercial farmers. While commercial farmers were shedding jobs, smallholder farmers were creating jobs and that addresses the problem of unemployment.
"In this Ezemvelo programme, the majority of participants are women and black women in general. It is African women who are in the [grip] of poverty, they are the poorest of the poor, but through this, we are assisting them to put food on the table as well as earning an income."
The initiative forms part of a R15 million three-year supplier development deal between Massmart and TechnoServe, a non-government organisation involved in entrepreneurship and agricultural development.
The deal is the result of a R100-million supplier development fund aimed at improving the competitiveness of South African manufacturers and producers as part of the Massmart-Walmart transaction.
The pilot project, the first of several to be rolled out across the country, is in line with Massmart's commitment to develop local suppliers.
For more information, call the Department of Agriculture, Forestry and Fisheries: 012 319 3719