International relations
Joining hands to tackle today's challenges
SAnews.gov.za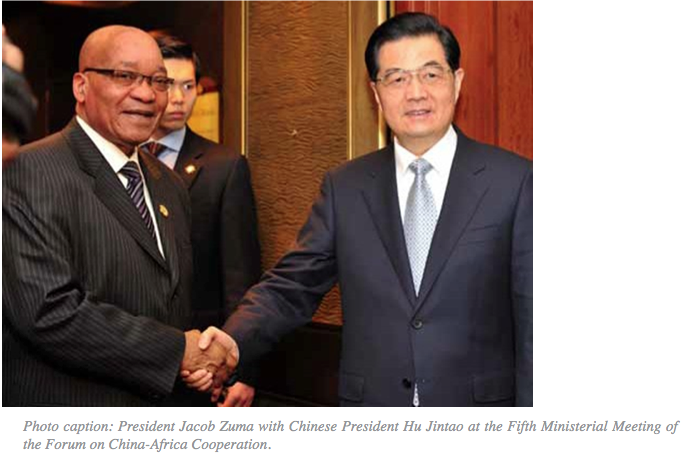 President Jacob Zuma has called on China to deepen its partnership with Africa in tackling today's challenges. He identified infrastructure development, information and communication technologies and energy as the key areas needing attention.
Speaking at the Fifth Ministerial Meeting of the Forum on China-Africa Cooperation (FOCAC) in Beijing recently, President Zuma said China's commitment to Africa was already being demonstrated, particularly in terms of human resource development, debt relief and investment.
He added that South Africa wanted to in- crease exports to China and welcomed more Chinese investment in its infrastructure development, industrial zone and mining industry to boost mutual trade, as well as Africa's economic development.
Chinese President Hu Jintao proposed measures in five priority areas to boost ties between China and Africa. He said in the next three years, his government would take measures in these areas to support peace, development and investment in Africa.
The first priority area is expanded cooperation in investment and financing to support sustainable development in Africa. China will provide $20 billion of credit line to African countries to assist them in developing infrastructure, agriculture, manufacturing, and small and medium-sized enterprises.
Secondly, China will continue to increase development assistance to Africa. This will include improved agricultural technology to help African countries increase production, the training of 30 000 people in various sectors 18 000 government scholarships and building of cultural and vocational skills training facilities. In addition, China will increase medical and health cooperation, meteorological infrastructure and forest protection and management, as well as well-drilling and water supply projects to provide safe drinking water to African countries.
The third priority is Chinese support for the integration of African countries through transnational and trans-regional infrastructure development programmes.
The fourth priority is improving people-to-people friendship to support and promote exchanges and cooperation between people's organisations, women and youth of Africa and China. This includes a proposal to set up a China-Africa Press Exchange Centre in China to encourage exchanges and visits between Chinese and African media.
Lastly, Hu said China would promote peace and stability in Africa and create a secure environment for Africa's development.
To this end, China will launch the Initiative on China-Africa Cooperative Partnership for Peace and Security, deepen cooperation with the African Union (AU) and African countries for peace and security in Africa, provide financial support and training for the AU peace keeping missions in Africa, as well as for the development of the African Standby Force.
The Sixth Ministerial Conference of the FOCAC will be held in South Africa in 2015.