Heritage and tourism
Heritage Month a time to be proudly South African
Ongezwa Manyathi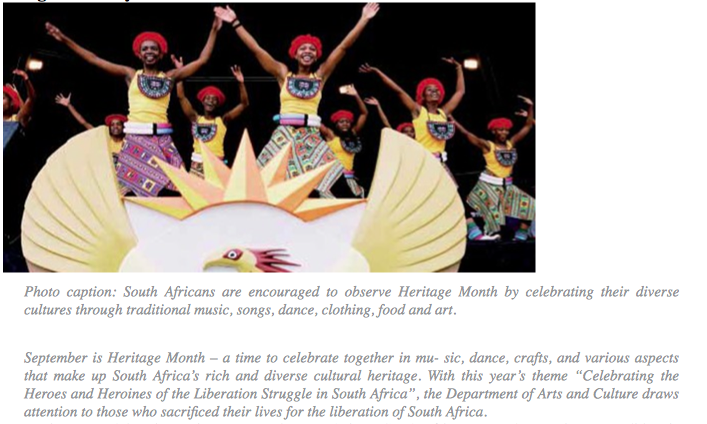 Heritage Month is a time to let your mu- sic stereo belt out South African tunes, dress up in your traditional outfit, eat South African cuisine, visit an art gallery or museum, reach out to people from other cultures and spare a thought for our struggle heroes, said Minister of Arts and Culture Paul Mashatile.
"It's a time to bring South Africans of all races together to celebrate their diverse cultures. Even though the culture is diverse, we are also trying to create a common identity; a common South Africaness." the Minister said.
In its quest to preserve South Africa's heritage, the Department of Arts and Culture has started to document the story of the lives of struggle heroes and heroines through what is known as the National Liberation Heritage Route. This is a series of museums, memorial sites and monuments that honour the men and women who fought for the liberation of the country.
Earlier this year, some 28 heritage projects were announced by the department that will boost economic development in rural areas and provide opportunities to small businesses in these areas.
There will also in other African countries. A monument and Interpretive Centre will be built in Matola, Mozambique which will be opened before the end of the year. The department has invested R65 million in the project creating a total of 245 contract and 15 permanent jobs.
Local sites
Locally, there is Robben Island, Lilliesleaf in Johannesburg and the Steve Biko Centre in the Eastern Cape, which has created more than 609 jobs and will be opened later this year.
The former ANC president OR Tambo's will also be upgraded in partnership with the Independent Development Trust. It includes the building of an access road linking Bizana to Tambo's homestead, the construction of a statue of Tambo and the refurbishment of the Garden of Remembrance and an interpretive centre in Kantolo.
There is also a legacy project in honour of the first ANC president, John Langalibalele Dube, in Inanda KwaZulu Natal. The John Langalibalele Dube Legacy Project is expected to create about 270 jobs.
Most of the graves have been declared as national heritage sites and will be upgraded. So far the graves of PAC leader Robert Sobukwe, activists Helen Joseph, Lillian Ngoyi and Charlotte Maxeke have been declared heritage sites; those of Beyers Naude and Rashima Moosa will be declared soon. The sites are set to become tourist attractions that will create jobs and boost business in their areas.
World Heritage Convention
In celebration of 40 years of the World Heritage Convention, South Africa will host a conference from 26 to 29 September. Delegates from all over the world will be looking at how heritage sites can co-exist with a need for development.
The Department of Arts and Culture will also encourage youth to get involved in art through the Public Art Programme. Budding young artists will receive art classes before being employed in towns to beautify their respective communities through different art projects. Along with the establishment of an Art Bank, the programme will create 10 000 new work opportunities over the next three years.
In addition, a National Skills Academy will be built to give young people an opportunity to train in different art fields such as dance, music, design, technical skills like stage management, sound engineering. Working with existing art schools, the academy aims to be the school of excellence.
Aside from the heritage projects, the department has partnered with Basic Education to reintroduce art in schools. A new South African Film Commission will be established to ensure that the sector is properly resourced and the country is equipped to host film festivals to showcase talent.
For more information, call the Department of Arts and Culture: 012 441 3709