Sport
SA's most glittering Olympic success
SAnews.gov.za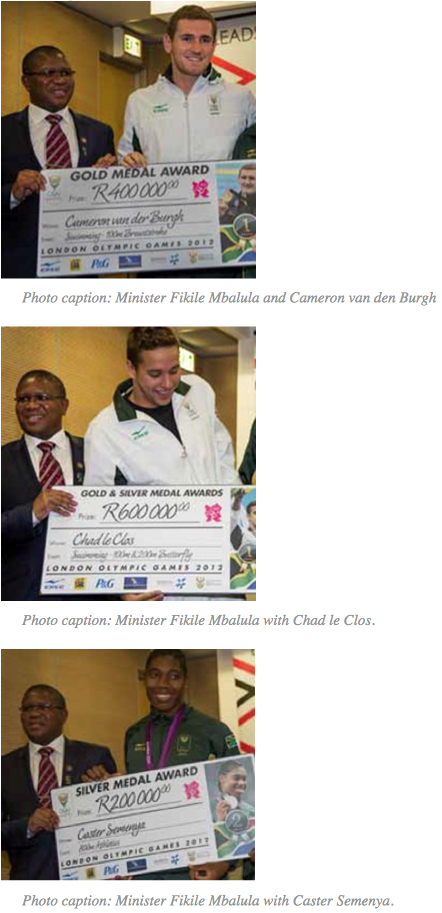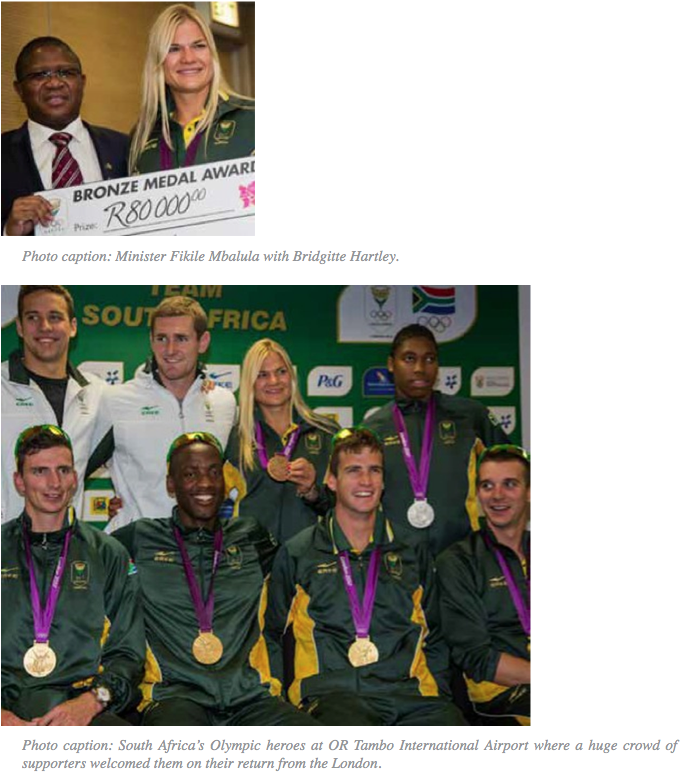 South Africa will remember 2012 as the year our Olympic team put on its best performance since the country was readmitted to the Olympic Games.
South Africa finished as the leading African nation and in 24th position on the fi medals table. Team SA's medal tally put the country just ahead of Ethiopia, which ended in 25th position with three gold, one silver and three bronze medals.
The team brought home three gold medals – from swimming sensations Cameron van den Burgh and Chad Le Clos and the rowing team comprising of Sizwe Ndlovu, Matthew Brittain, James Thompson and John Smith.
Our silver medals came from Caster Semenya and Chad Le Clos, while Bridgitte Hartley
bagged a bronze in the women's canoe sprint. 
This year's heroic feat closes the chapter on the 2008 Beijing Olympics when the team managed just one silver medal from long jumper Kgotso Mokoena.
Resounding success
"This Olympics has definitely been our most successful Olympics ever with the six medals we have won," said Sport Minister Fikile Mbalula.
He said although we didn't achieve the 12 medals target set by Sascoc, the three gold medals achieved by our athletes was a re- sounding success and "we should embrace, treasure and cherish them."
The Minister also expressed his satisfaction with the all-round performance of the athletes, adding that the London Olympics laid the basis for the country's march towards the 2016 Rio de Janeiro Olympics in Brazil.
Uniting the nation
Giving them a heroes' welcome at the OR Tambo International Airport, a huge crowd blew their vuvuzelas, sang the national anthem and the well-known Shosholoza and waved the flag in true South African spirit, proving once more that sport plays a major role in uniting the nation.
Praising the medalists, Sascoc Chef de Mission, Patience Shikwambane said, "...we salute you, you've made us very proud."
Echoing Shikwambane's words, Sascoc CEO Tubby Reddy said, "These athletes really made us proud with their excellent performance and achievements."
President of Sascoc Gideon Sam who set the target of 12 medals for Team SA, gave the Olympians a ten out of ten ranking. "I am 100 per cent satisfied with the performance and with what we've achieved. We set the target precisely because we wanted to work towards something. We tried our best and in the coming weeks I will give the medalists a programme in preparation of the Rio de Janeiro Olympics in 2016."
Monetary rewards
The medalists also received money in recognition of their achievements.
Le Clos received an amount of R600 000 for winning gold and silver, while his coach Graham Hill received R150 000. Van den Burgh received R400 000 and his coach received R100 000. Rowing team members Ndlovu, Brittain, Thompson and Smith each received R100 000.
Caster Semenya, who closed Team SA's London Olympic campaign with a silver medal in the 800m women's race, received R200 000 and her coach Maria Mutola R50 000. Bronze medalist Hartley took home R80 000.
For more information, call Sports and Recreation South Africa: 012 304 5000