Soweto mom's HIV heroism moves Sir Elton John and US VIPs
SAnews.gov.za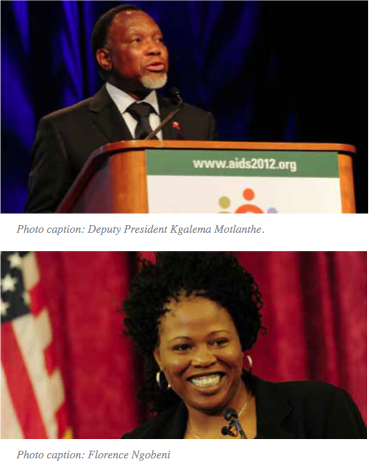 "I play before capacity crowds and get an awful sense of fulfillment from that. But the emotion cannot compare to listening to Florence this morning."
So said Sir Elton John at a Congressional Global Aids breakfast meeting he hosted in the Kennedy Caucus Room in partnership with UNAIDS recently. The breakfast was part of the many events taking place alongside the 19th International Aids Conference.
Florence Ngobeni, an HIV-positive mother from Soweto, shared the stage with Deputy President Kgalema Motlanthe, Sir Elton John, US Senators, Congressmen and Congresswomen. She told her personal story of HIV and Aids.
Fighting spirit
"I discovered that I was HIV-positive after the birth of my fi child, Nomthunzi, who died when she was only fi months old. At that time, HIV treatment was non-existent for children in South Africa, and barely even available for adults."
She was devastated by the loss of her baby. A little while later, she lost her partner too. She had to make a decision whether she was going to fight or give up. She decided to fight. Her fight back involved disclosing her HIV status - something that was not easy given the stigma then associated with HIV and Aids - and counsel- ling pregnant women living with HIV.
In addition to being a counsellor she spoke out on issues related to HIV and Aids, especially access to treatment.
Thank you
Florence is full of praise for the President's Emergency Plan for Aids Relief (Pepfar), initiated by former US President George Bush, and the American leadership in general which brought wider avail- ability of antiretroviral treatment and programmes to prevent mother-to-child transmission of HIV. "I am alive today because of Pepfar. Thank you to the American people for their generosity."
She thanked Deputy President Kgalema Motlanthe and the government for taking unambiguous steps to address the epidemic in South Africa and for enhancing coordination in the fi against HIV and Aids.
Tears of joy
Today, Florence is married and has two children, both of whom are HIV-negative. She is a strong advocate of providing antiretroviral therapy to pregnant women living with HIV to prevent the transmission of HIV to infants.
With tears [of joy, she said] streaming down her cheeks and an esteemed audience of congressmen, congresswomen, senators and former presidents of Botswana and Mozambique Quett Masire and Joachim Chissano captivated by her courage and eloquence, Florence went back to her seat - but not without a sustained applause and a standing ovation.
As Sir Elton John said, the emotion after Florence's poignant talk could not compare.