Bridge links tourists to Madiba's legacy
Nthambeleni  Gabara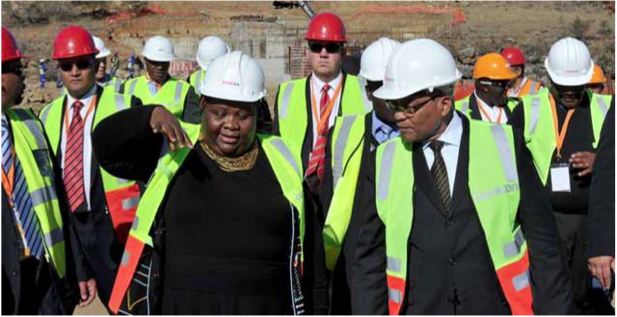 Photo caption: President Jacob Zuma with Eastern Cape Premier Noxolo Kiviet at the site of the Nelson Mandela Legacy Bridge, Ludondolo village near Mthatha
The Nelson Mandela Legacy Bridge currently under construction at former President Nelson Mandela's birthplace, Mvezo Village in the Eastern Cape, will attract tourists to the area. So says Rural Development and Land Reform Minister Gugile Nkwinti.
Nkwinti, who accompanied President Jacob Zuma to the official launch of the bridge at Mbashe River, said the name of the bridge would be a draw card for tourists and schools as they would want to learn more about Nelson Mandela's birthplace. The bridge will also attract more visitors to the Mvezo Museum, which displays Madiba's legacy.
President Zuma said the bridge would substantially shorten the distance to Qunu village, where Madiba now lives.
"Many visitors, both from our own country and abroad, who wish to visit the birthplace of this world icon, will be able to do so by branching off from the national road and travelling a relatively short distance on a new road, thus turning Mvezo potentially into a major tourist attraction."
Self esteem
Nkwinti said there would be restoration of self-esteem to both Mvezo and Ludondolo residents, as they would no longer be subjected to an embarrassing and inconveniencing situation of removing their clothes to cross the Mbashe River to access basic services such as schools and clinics.
"Stimulation of tourism in the area is likely to result in the creation of businesses in the tourism sector locally and in the province as a whole," Nkwinti said.
Through the construction of the bridge, government priority areas such as job creation, access to education, health services and local economic development would be ad- dressed.
Taxi services are also likely to improve as the taxi industry has indicated that it would extend its services to the villages of Ludondolo and Mvezo once the tarred road and bridge were completed.
The construction of the Nelson Mandela Legacy Bridge has resulted in the improvement of job creation and skills development in the area.
Workers on the project have been trained in steel fixing, bricklaying, paving and carpentry skills that President Zuma said would make them employable in future.
"I have no doubt that the skills acquired during the bridge and road building process will enable these workers to become more employable in the future, and to access jobs elsewhere even after the completion of the project, and these workers will themselves have easier access to nearby towns," the President said.
The Department of Rural Development and Land Reform has bought a brick-making machine that is used to manufacture bricks during the construction of the bridge.
Once the bridge and road construction projects are completed, the department will hand over the brick-making machine to the trained workers to set up a brick-making business.
For more information, call the Eastern Cape Department of Roads and Public Works: 040 609 4024 / 040 609 4008