Employment news
SA goes with the WaterAid flow
Yuven Gounden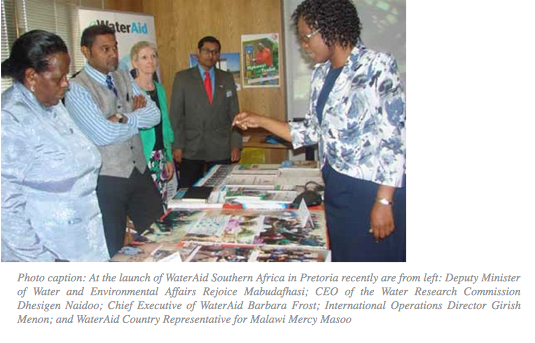 Cultural dancing, eye-catching exhibits, informative talks and good food characterised the recent launch of the Southern Africa WaterAid offices in Pretoria.
WaterAid, an international non-government organisation, is dedicated to improving access to safe water, hygiene and sanitation in the world's poorest communities. It has been active over the past 31 years in 27 countries through four regional teams in Asia, West Africa, East Africa and Southern Africa.
WaterAid works with local partners who understand local issues and provides them with skills and support to help communities set up and manage sustainable projects that meet their needs.
WaterAid Southern Africa is hosted by the Water Research Commission (WRC) and it is housed in the WRC building.
Shared passion
Welcoming WaterAid to South Africa, Deputy Minister of Water and Environmental Affairs, Rejoice Mabudafhasi said government would partner with them to address problems relating to safe water supply and sanitation.
"We share the WaterAid approach where we consult with communities and get them to take ownership of the project before we implement. We also share their passion for capacity building, especially developing young talent," she added.
Girish Menon, the Director of International Programmes, described South Africa as a "source of inspiration and beautiful hope. Applauding the country for being a world leader in water and sanitation" matters, he said WaterAid saw the South African government and the WRC as worthy partners in the universal goal of improving the quality of lives of poor people in the region and worldwide.
Impressive progress
Robert Kampala, Head of South Africa Region, said, "WaterAid also provides flexibility to respond to opportunities and challenges as they arise, such as opportunities for influencing new partnerships. It further provides an opportunity to work closely with the South African government, which has a stronger regional and international influence in realising the rights to water and sanitation for the poor."
Barbara Frost, Chief Executive of WaterAid, said they were impressed by the progress made by South Africa. She noted, however, that 2,5 billion people globally still lived without access to toilets and 783 million didn't have safe drinking water.
For more information, call the Department of Water Affairs: 012 336 8387 or visit: www.wateraid.org/