Samona Murugan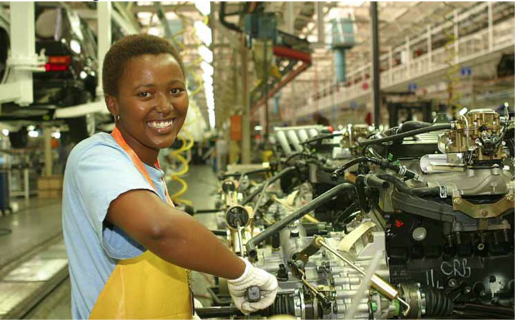 Photo caption: The FET Expansion and Development Programme Fund aims to make good quality tertiary education more accessible and affordable to even more young people. (Photo: Volkswagen South Africa MediaClubSouthAfrica.com)
"Our expectation of the FET system is that it must be a driver and catalyst for community development and tackle unemployment and poverty head on. We expect that FET colleges will reach out to communities, especially young people and offer them these opportunities." – Minister of Higher Education and Training, Blade Nzimande.
Government is pumping more money into Further Education and Training (FET) colleges so that they can offer good quality education to even more young people.
Speaking at the launch of the FET Expansion and Capacity Development Programme Fund, Minister of Higher Education and Training, Blade Nzimande said, "Over the long term we would like to see FET colleges as a partner of choice to roll out skills development on a massive scale."
He noted that South Africa had about three million young people between the ages of 18 and 24 who were not in employment, education or training. "A further concern is that 1,1 million young people turn 18 each year. Many of them are unable to find jobs or access formal learning and are unlikely to get into the labour market to earn a sustainable living. This is indeed a huge waste of the potential of our youth and must be tackled as a matter of urgency."
Investment
The fund, which was started by the Department of Higher Education and Training, is one way of tackling this pressing issue head on. It is complementary and in addition to the R2,5 billion allocation announced by President Jacob Zuma in April towards the refurbishment and construction of new FET campuses over the next three years.
Minister Nzimande announced that as of 1 August, all 50 FET colleges would receive their individual allocation of the R2 billion FET Expansion and Capacity Development Programme.
He officially handed over the allocation certificates to the principals of the colleges with funding that came from the National Skills Fund (NSF) to support the expansion and growth of the FET sector, support skills development in the key growth sectors of the economy and support capacity building.
"With this investment the department and government are sending a message on the importance of FET colleges in skills development in our country. This therefore is a challenge especially to the SETAs to increase financial investment and support to these colleges, as well as to employers to move closer to the colleges, including provision of equipment, workplace opportunities for students and lecturers and staff ex- change programmes."
Minister Nzimande said one of the ways to turn the negative perceptions about FET colleges around and turn them into institutions of choice, was to invest in improving the institutions in terms of the quality of the teaching, learning and output, as well as infrastructure and facilities.
He said the state was cracking the whip on the fly-by-night institutions and appealed to the communities to play a role in rooting them out. Despite the challenges facing his department, Minister Nzimande confirmed that his department had been working hard and continues to do so to expand opportunities for the youth, and to improve the quality of education. He said loans and bursaries to poor students from the NSFAS had been expanded substantially over the last three years. "Funds made available to students grew from R2 375 billion in 2008 to R6 billion in 2011 and are expected to continue growing."
NSFAS funds were made available for special purposes such as R50 million for post-graduate scholarships, R63 million for students with disabilities, R350 mil- lion for poor students who were unable to register due to insufficient funding in 2012.
Figures indicate that student enrolment beneficiaries stand at a total of 102 366, which include National Certificate (Vocational) enrolments as well as other short skills programmes, learnerships and apprenticeships.
Minister Nzimande stressed that new universities and campuses were much needed.
He noted however, "The sad truth is that over the past decade we have systematically shifted state resources away from the FET system leading to its demise and ultimate decline. We have ploughed more resources into private training providers, but the economy and our socio-economic challenges have not improved.
Over the long term we would like to see FET colleges as a partner of choice to roll out skills development on a massive scale." – Minister Blade Nzimande
Serving the people
"The 50 FET colleges and their campuses have a much larger footprint in the country than any of the other education and training systems. FET colleges therefore present us with an opportunity to not only expand access, but to also do this in a manner that serves the people of this country equitably."
He said the new programme was a call and a unique opportunity to turn FET colleges around. "It is a historical opportunity that the youth and unemployed should grab with both hands. There is absolutely no excuse for anyone to say they do not understand what the skills priorities of our country should be, and the centrality of FET colleges in this."
For more information about FET colleges, call the Department of Higher Education Call Centre:  0800 872222 or call:  012 312 5911