International relations
US to help strengthen education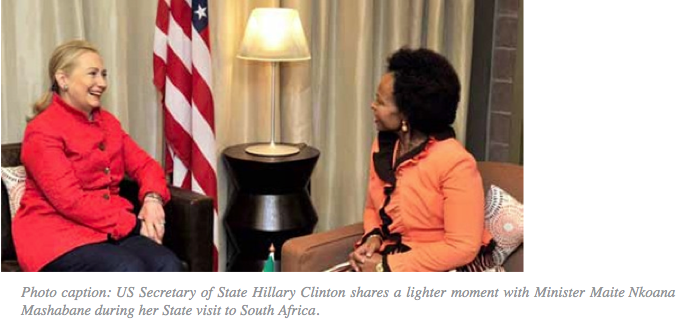 South African and the United States have pledged to strengthen their relationship following a recent visit by the US Secretary of State Hillary
Clinton.
One of the major announcements made by Clinton during a meeting with South Africa's Minister of International Relations and Cooperation Minister Maite Nkoana Mashabane was a commitment of $500 000 to help South African students to study in the United States. "We recognise that strengthening South Africa's education, like in any country, is essential to your economic future," she said. The two countries also agreed to build closer cooperation in areas of aviation, energy and security. Maite Nkoana Mashabane told Clinton that South Africa stood ready to welcome any partner that would further promote the country's growth objectives.
The two ministers further promised to continue their partnership in fighting HIV and AIDS. Clinton said the US was "still seriously committed" to eradicating HIV and AIDS and would continue to avail resources in this regard.
"We all agree that we are working towards this HIV-free generation and America commits to be part of that fight. We will see this fight through to the end with our partners, including South Africa."
Nkoana Mashabane also used the opportunity to invite the US private sector to invest in South Africa's infrastructure development programme announced by President Jacob Zuma earlier this year.