Ex-offender turns his life around
Elfas Torerai - Department of Correctional Services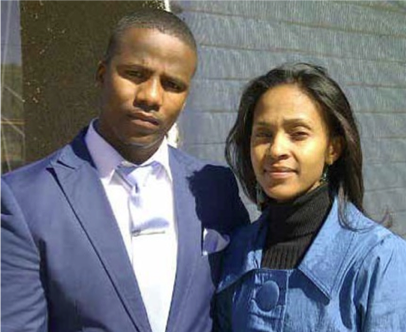 Photo caption: Pastor Brando Lottering and his wife Petronella
The story of a former alcoholic and ex-offender from Rooigrond who has turned his life around and is now a leading church pastor in Vryburg, is a prime example of how the corrections system has success - fully led to rehabilitation. His story inspired many young people from the area notorious for its rampant drug abuse.
Our focus is on the corrections system and breaking the cycle of crime," said Minister of Correctional Services Sibusiso Ndebele recently.
Minister Ndebele, who was addressing Parliament, said, "Key to rehabilitation is empowering offenders to have skills to function effectively in society on their release. It is equally important to ensure that offenders are actively involved in productive activity while they serve their sentences…
"Our plans focus quite strongly on the improvement of offender involvement in education and skills development programmes."
Relating his story to the community of Danville in Mafikeng during an event to mark International Day against Drug Abuse and Il- licit Trafficking, Pastor Brando Lottering urged people, particularly the youth, to shun alcohol and substance abuse.
Lottering, now in his late 30s, said he almost wrecked his life beyond redemption when he started substance abuse some years ago.
"I started substance abuse when my parents divorced, because their separation left me emotionally dead. I became an alcoholic and at times I wouldn't fear anything and would drive recklessly. I was involved in two accidents and only survived by the grace of God," he said. His world started falling apart completely when he turned to crime to feed his addiction.
Arrested and convicted of robbery, Lottering was sentenced to 10 years behind bars. "I was sentenced to 10 years for stealing R1 million and I was only released from prison in May this year."
While in the correctional centre, isolated from society, Lottering decided to turn his life around. Thanks to the Department of Correctional Services' policy of involving offenders in education and skills development, he was given an opportunity to study.
"I studied theology in prison – I'm now converted and running the Mount Carmel Church International Ministries in Vryburg", he said. Lottering called on parents in Danville, a com- munity said to be infested with drug abuse, to raise their families together so that the drug cycle could be broken.
"In our family, I'm the only one who has escaped the drug net. What I have learnt is that parents have to bring up their children in love to avoid what some of us went through."
A bystander at the event, who requested anonymity, said he was still on drugs like many other young people in Danville, and it was ruining his life. "We are often high on tik, khat and methamphetamine. It has become part of us and we do it often." He hoped Lottering's message would not fall on deaf ears.
For more information, call the Department of Correctional Services: 012 307 2000/ Anti-corruption hotline: 0800701701