Vuk'uzenzele 50th Edition Special
Braille edition gets learners reading and talking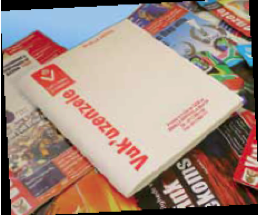 Being the only newspaper in South Africa that is published in Braille, Vuk'uzenzele offers a unique service to schools for the blind and partially sighted learners.
Vuk'uzenzele not only provides in- formation on opportunities and services to South Africans who have limited access to main-stream media, but also to those who are unable to read normal print publications.
Christiana School for the Blind in North West is one of the many schools that receive copies of the newspaper in Braille.
"Having a publication like Vuk'uzenzele has proven to be a very important means of accessing information for the school's learners," said Marietjie Bester principal of the school.
Blind learners are highly reliant on the Braille edition as it not only provides them with useful information, but also helps them to practice their reading skills, she added.
Learners said they enjoyed reading Vuk'uzenzele as it kept them up to date with what government offers in term of programmes and services. It also enables them to participate in discussions about these and other topical issues covered in the newspaper.
"The publication helps our students tremendously as it is in a format that gets them reading and talking about what they've read. It's very important that they acquire knowledge about what is going on in their country," Bester explained.