A brighter future with science
Thembisa Shologu - Gauteng Provincial Government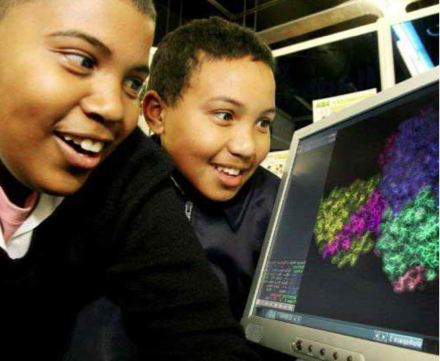 Photo caption: Learners are fascinated by an electronic exhibit during National Science Week.
South Africa has a lot to be proud of in the world of science and technology said Minister of Science and Technology, Naledi Pandor.
Speaking at the launch of National Science Week at the University of Johannesburg's Soweto Campus recently. Minister Pandor said, "South Africans need to understand the extent to which science and technology have benefited the economy and encourage our youth to explore careers in these sectors to eventually add value to the economy."
Under the theme "The Role of Science in Economic Development", the event was aimed at highlighting the significance of science in our daily lives and how young people can use opportunities in this sector to ensure a brighter future for themselves and help boost the country's growth.
Reminding the youth that all science was not necessarily 'big science' or 'rocket science'', Minister Pandor said it was sometimes simple inventions that improved people's daily lives.
"You can turn waste into energy, you can work out how to purify water, or you can make better solar dishes or cell-phone masts," she concluded.
National Science Week was initiated in 2000 by the Department of Science and Technology and is a countrywide celebration of science at various sites in all the provinces during one week of the year.
The celebrations are conducted in collaboration with higher education institutions, science centres, other government departments, non-governmental organisations, science councils and sponsors.
This year, activities took place at more than 89 sites throughout the country. Educational materials were distributed including science, engineering and technology career awareness information, to help learners, particularly those below Grade 12, to help them plan their future careers.
Young people were also encouraged to share their thoughts about science, technology and innovation on social networking sites such as Facebook and Twitter.
For more information, call SAASTA: 012 392 9335 or visit: www.saasta.ac.za/nsw/about.shtml, or call the Department of Science and Technology:  012 843 6300