Bon voyage for SA's first dedicated training vessel
Samona Murugan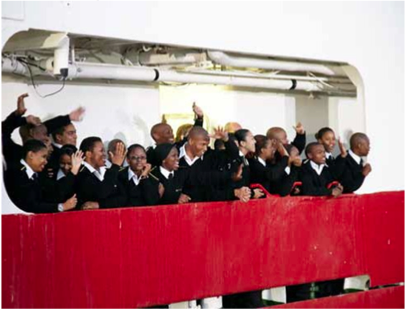 Photo caption: Trainees wave goodbye from the deck of the SA Dedicated Training Vessel.
Fifteen young maritime cadets bid a happy bon voyage as they embarked on a three-month long journey on South Africa's first dedicated training vessel. The vessel, formerly known as the SA Agulhas, was recently re-launched in Cape Town as a training vessel to allow cadets to undergo their practical training at sea. Unveiled by the South African Maritime Safety Authority (SAMSA), the vessel is now known as the SA Dedicated Training Vessel. Apart from training, it will also be used for research and as a platform to conduct countrywide awareness campaigns.
The vessel began its official journey to London and will also visit Namibia, Angola, Ghana, Liberia and Nigeria en route to collect 30 other maritime cadets who will join those already on board.
Maritime careers
The SA Agulhas used to belong to the Department of Environmental Affairs as a polar research vessel. After almost 30 years of service, it was replaced by a new polar supply and research vessel, the SA Agulhas II.
According to Sindiswa Nhlumayo, Executive Head of the Centre for Excellence at SAMSA, the training vessel came at a time when the organisation was improving its maritime skills-development programme to increase the number of seafarers in the country. South Africa currently has less than 2 000 registered seafarers.
"We are thrilled that the vessel is finally on our books. The acquisition means a lot to SAMSA. Not only have we become the first to convert a vessel of this size to a fully-fledged training vessel in the whole world, but we've also helped to shape the future of hundreds of South Africans aspiring to follow maritime careers."
The launch of the SA Dedicated Training Vessel rang in a new chapter for SAMSA that will allow South African cadets to complete their practical training on a South African registered vessel. In the past, cadets were trained on berths made available by third party shipping companies.
The vessel also strengthens SAMSA's mandate to contribute towards the country's maritime economic growth, Nhlumayo noted.
Future seafarers
"Skills shortage is a major challenge for the country, particularly in the maritime sector. This has contributed to a drop in active shipping companies in South Africa, but we believe that with this acquisition, we have the potential to double or even triple the size of the industry and contribute to job creation in years to come," said Nhlumayo.
Among the future seafarers is Talent Khubela from Richards Bay, who said the training would be a life-changing experience for her.
"At first, my family was a little skeptical about me pursuing this career, but once I started I knew it was right for me. It's everything that I was looking for in a career choice, adventure and travel."
Another seafarer in the making, Lita Malata of Umzimkhulu, said she hoped to put her training into practice soon and looks forward to one day heading up her own fleet.
For more information, call SAMSA: 012 366 2648