International relations
Brazil, Russia, India and China are the four biggest economies in the developing world. They account for 40 per cent of the world's total foreign exchange reserves and represent over 4 per cent of the world's population. In 2009, the leaders of Brazil, Russia, India and China met for the first time in Russia to form an economic and political partnership called BRIC from the first letters of the member countries' names.
South Africa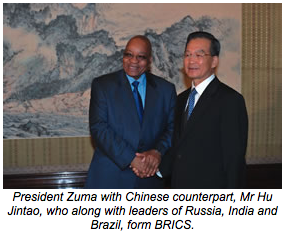 In December 2010, South Africa received membership of this group, and the name changed to BRICS.
In April this year, President Jacob Zuma will meet with leaders of the BRICS nations at the 3rd BRICS Leaders Summit in Beijing China. 
The flow of trade and investment in the BRICS countries are undergoing great transformation. Member countries are now global investors, because their economies were able to overcome the global financial crisis and have become a source of stability to the global economy.
Why did South Africa join?
BRICS is a platform to represent the voices of the emerging/developing markets. South Africa is seen as a gateway to the African continent, which will help to transform our country, our continent and the world for the better.
South Africa stands to benefit tremendously from BRICS projects in areas such as agriculture, science, statistics, development of finance institutions, security and justice.