Youth matters
Home Affairs Minister, Dr Nkosazana Dlamini Zuma, has called on South Africans, especially the youth, to apply for IDs. This will give them the ability to register to vote in the 2011 Municipal Elections on 18 May.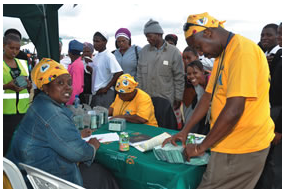 Thousands of South Africans flocked to register during voter registration weekend on 5 and 6 March. According to the Independent Elections Committee (IEC) over 653 000 young people under the age of 30 have either registered or re-registered to vote. The IEC has been targeting this age group ahead of the local government elections as part of its efforts to increase voter numbers.
Voters' roll
The commission's chairperson Brigalia Bam said over 23 million people are now on the voters' roll. KwaZulu-Natal logged the highest number of new registrations followed by Gauteng and the Eastern Cape.
The IEC together with the Department of Home Affairs is committed to ensuring South Africans are issued with valid ID documents, so they can register to vote in Local Government Elections in May.
Parents also need to assist their children who are 16 years or older to apply for IDs.
What do I need to register?
To register, you must :
be a South African citizen
be at least 16 years or older
have a green, bar-coded ID
Can I still register?
Voters who have not yet registered to vote can still do so at their local municipal offices.
What must I bring?
You need to register in person. Bring your South African, green, bar-coded ID book or a valid Temporary Identity Certificate (TIC) if you don't have an ID book.
How do I register?
go to your voting station or Municipal Electoral Office
fill in an Application for Registration as a Voter form
your ID book will be scanned
a bar-coded sticker will be pasted in your ID book.
When do I have to re-register?
You only have to re-register when your home address changes or when the IEC informs you that your voting district has changed.
How do I know if I'm already registered?
To check the status of your registration details, you can:
SMS your ID number to 32810
contact the call centre toll free on 0800 11 8000, or
visit the IEC website at, www.elections.org.za