Government has launched a new HIV counselling and testing campaign called First Things First. The campaign aims to encourage at least 15 million South Africans, including tertiary students, to get tested for HIV and know their status by June 2011. This lays the foundation for an HIV-free society.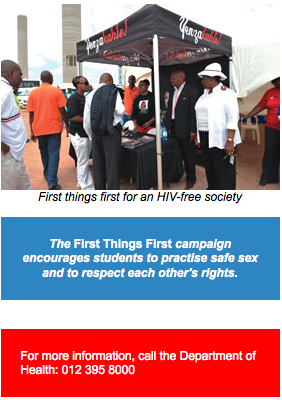 The First Things First campaign was launched at the University of the Witwatersrand (Wits) Medical School earlier this year. It is a collaborative effort between the South African National AIDS Council (SANAC), Innovative Medicines of South Africa (IMSA), the Foundation for Professional Development, the departments of health and higher education and the United States President's Emergency Plan for AIDS Relief (PEPFAR). It will be rolled out by the ministries of health and higher education and forms part of government's broader voluntary HIV testing and counselling (HTC) programme.
Campus visits
The campaign has already visited many tertiary institutions including the Wits Medical School Campus in Johannesburg and the Durban Institute of Technology (DUT). Campus visits will continue throughout the country this year and will be extended to reach every university's first-year orientation programme.
Future leaders
First Things First aims to help South African students, as future leaders, to be responsible, get tested for HIV, know their status and commit to behaviour that would benefit themselves and their peers," said Minister of Health Aaron Motsoaledi. "We chose to reach out to students as they are the future leaders who can enable positive change within society,"
"With this campaign we can put all our energy into making a significant contribution to government's efforts by adopting a new approach," he said.
According to Val Beaumont, Executive Director of IMSA, the campaign is one of the most ambitious in the world. "This is not just another campaign, it is fresh and it is contemporary. We are confident that it will leave  a lasting behavioural legacy amongst students to do things differently."
The departments of health and of higher education have ensured that mobile testing units will be stationed at 16 universities countrywide.
More than 250 staff members from the Foundation for Professional Development will be trained to carry out testing and counselling of students.
High schools
The HCT campaign is also expected to be rolled out at high schools soon. Respecting learners' privacy, tests will be performed in private spaces on school premises during weekends and school holidays.