Sport and Recreation
South Africans from all walks of life, young and old have swapped their Football Fridays for Magnificent Fridays. Responding to calls from the Department of Arts and Culture, as well as Sport and Recreation South Africa to support our national sports teams, people are encouraged to wear the colours and shirts of our national teams, sing the national anthem and fly the national flag high every Friday.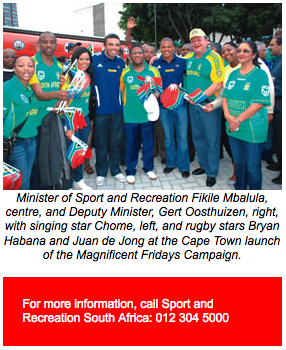 South Africans, still smarting from the successful hosting of the 2010 FIFA World Cup, are once again coming out in numbers to support the country's three national teams taking part in world sporting events this year.
These events include the 2011 Cricket World Cup, the 2011 Netball World Championships in Singapore in July and the 2011 Rugby World Cup in New Zealand in September/October.
After the Cricket World Cup, the Magnificent Friday campaign will encourage South Africans to support "Amantombazane" - the girls of the national netball team who will be participating in the 2011 World Netball Championships in Singapore in July.
After the netball, South Africans will be encouraged to support the Springbok rugby team before and during their participation in the 2011 Rugby World Cup in New Zealand.
The Magnificent Fridays campaign will also include activities such as educating communities about our national symbols, singing the national anthem, distributing national flags and presenting sports clinics.
National symbols
To show heir commitment and creating awareness about national symbols, Ministers, Provincial Premiers and MECs responsible for Arts and Culture, Sports and Recreation, will participate at events to install and raise national flags at selected schools.
Activities to raise awareness of Magnificent Fridays also include raising awareness about national orders and symbols. Flags, booklets and other relevant material will be distributed to the public.
Activities furthermore include demonstrations and coaching clinics in cricket, rugby and netball, as well as performances by various artists and music groups to encourage people to support the three national teams.
National netball, rugby and cricket teams and sports -legends will also attend events.
Magnificent Fridays aims to fire up the entire nation to stand behind their sports teams and help them achieve their best in 2011 international tournaments.