Youth matters
A group of youths from the Driefontein community brought joy to a pensioner along the KwaZulu-Natal North Coast when they built him a new home.
A better life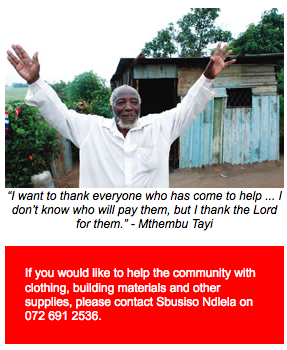 According to Driefontein Community Policing Forum chairperson, Sbusiso Ndlela, the home was built for Mthembu Tayi. Mthembu, who said he was the same age as Nelson Mandela and Oliver Tambo, used to live in a run-down shack and has no income.
The youth responsible for building the house are members of the Thando Christian Church of Prophecy and Ukukhanya kweBhethesda Church in the area. They were sad to see an elderly man living in total poverty and decided to help him have a better life by building him a sturdy home with a stable roof. They used corrugated iron, because bricks were too expensive and they had limited resources.
Overjoyed
Mthembu was overjoyed and reduced to tears when he realised what the youth had done for him. "I want to thank everyone who has come to help. What is amazing is that I don't even know some of the people who helped me. I don't have money. I don't know who will pay them, but I thank the Lord for them," he said.