International relations
A devastating earthquake and tsunami hit Japan on 11 March. While the people of Japan continue to deal with the widespread damage, many countries across the world, including South Africa, have offered a helping hand. A search and rescue team of 50 specialists including doctors, paramedics and rescue dogs from South Africa were sent to help search for survivors.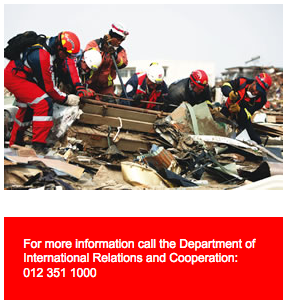 The Tsunami was caused by an earthquake measuring 9 on the Richter scale, which hit the island of Honshu in the northeast. Numerous people were killed or are missing and thousands were left homeless. Just four days after the disaster struck, an aftershock measuring 6.1 on the Richter scale shook Honshu again. The earthquake has damaged and washed out entire villages and towns. The South African rescue team falls under the International Search and Rescue Advisory Group (INSARAG), which co-ordinates rescue operations. The team along with their trained rescue dogs helped to pull survivors and bodies out of the rubble at Natori City, north of Tokyo. Inflatable boats were used to search the flooded rice paddies in freezing weather. 
"The people of South Africa share the pain and loss of the loved ones, their homes and property, and our thoughts and prayers go to the affected families." - President Jacob Zuma.
According to South Africa's Department of International Relations and Cooperation, between 200 and 500 South Africans are said to have survived the earthquake and tsunami.
Equipment, food, medicine
The South Africa team carried about 16 tonnes of food, specialised equipment and camping gear. According to Rescue SA spokesperson, Ian Scher, the team needed about R7 million for the operation for its own camp, food, rescue equipment, medication and doctors.
The team received funding from government, NGOs and the private sector, including Netcare, Discovery, Econet Wireless, MTN and Core Group. Other organisations such as ER24 and Medhold sponsored medication.
Proud of team SA
Wallace Sellar, one of the rescuers who hails from the Cape Town Emergency Services, described his experience in Japan. "We had to conquer the weather elements. It was sad to see, but people worked hard to avoid being flattened and wiped out," he said.
Wallace along with other rescuers worked in the field recovering bodies and helped recover seven bodies. He says his experience taught him to appreciate life and not take things for granted "because you can lose it all tomorrow."
Rescue SA team leader Collin Deiner thanked South Africans for believing in the team, while Department of International Relations and Coorperation ambassador, Sisa Ngombane, expressed pride in the team. "We are very proud of team SA who answered the call of the Japanese. Japan saw your mark, thank you for all you sacrificed."
Japanese ambassador Toshiro Ozawa said, "I told the team earlier that their assistance will be a symbol of friendship and solidarity. This team worked on the north eastern side where weather conditions were harsh. They were well prepared. Reports I received on the ground about them were full of praise."
A total of 50 nations have pledged relief support and more than 70 specialist rescue services from around the globe, including South Africa, were sent to Japan.
Donate money
South Africans have been urged to donate money to assist the South African rescue team in Japan with equipment and other resources.
The money raised will go towards more equipment, better camping gear and other additional resources towards Rescue SA's mission.
You can donate the money using your cellphone. Send an SMS with the word Japan to 36585 to donate R5.
Meaning of words



Earthquake: Underground movement along a fault plane resulting in shaking and vibration at the surface of the earth.
Richter scale: A scale used to measure the relative strength of earthquakes. It rates earth tremors on a scale from 1 to 9. A figure of 2 or less is almost unnoticeable, whereas an earthquake measuring over 5 may be destructive, and 8 or 9, is a major earthquake.
Tsunami:  A very large wave or series of waves in the ocean caused by an underwater earthquake or volcanic eruption. It often causes extreme destruction when it strikes land.