Written by Samona Murugan
A passion for making beautiful things from recycled cans has changed many lives in the community of Mandeni, a small town along the North Coast of KwaZulu-Natal. The man responsible for this positive change is 62-year-old crafter Muzi Mokoena.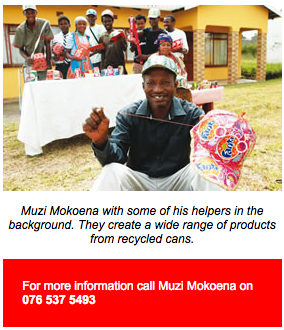 Muzi Mokoena had a dream to challenge poverty and crime within his community. All around him he saw children dropping out of school, begging on the side of the roads and even stealing to survive. This saddened him so much that he decided to make a difference.
Arts and crafts
He started his own craft business called Muzi's Arts and Crafts and has employed several young crafters from his community. He also encourages children from a young age to earn money by working hard instead of resorting to crime.
"People always blame government if they don't have jobs or if things don't work out. But what are we doing as citi­zens to meet government half way? We have skills and talents, but we do not use them."
Muzi's creative hands have led him a long way. He now makes 56 different products including office accessories, clothing and home decoration items and employs six people to help ease the workload.
Creative talents
His creative skills have allowed him to provide for himself and his family without relying on anyone. From a young age Muzi realized his creative talents. In primary school he started carving spoons out of wood and even made a rabbit out of soft stone.
After living in Cape Town and studying Craft Design and Enterprise at the Peninsula University of Technology, Muzi met his friend and business partner Luvuyo Nyathi. The two started their business, but after Luvuyo passed away, Muzi decided to move back home.
"...what are we doing as citizens to meet government half way? We have skills and talents, but we do not use them."
"I started small by making caps, belts and handbags out of recycled cans. I remember walking on foot trying to market my products. It wasn't easy, but I believed in myself." Soon after that, the African Art Centre in Florida Road, Durban and the Arts Africa Centre in Umhlanga decided to exhibit and sell his products.
Once the demand for his products grew, Muzi decided it was time to pass on his trade. He started involving the youth in his community.
Children as young as five years old started collecting cans for him and received 50 cents per can. Muzi began training the older teenagers, many of whom were high school dropouts.
Many adults in his community had lost their jobs due to factories closing down in the area after the global recession. He decided to help them and taught them how to craft. They were paid for every item they made. Today he has six junior crafters and a few freelance crafters working for him. He receives cans from children throughout the community.
"I am not only tackling poverty, I am also creating jobs, decreasing crime in my community and helping the environment by teaching people to recycle. I'm also instilling a work ethic and develop­ing skills in each and every individual I come across."
Grow and inspire
His business continues to grow and in­spire others in the community. He supplies caps, belts, handbags, jewellery, vases, bread bins, dustbins and a wide range of office supplies.
Muzi's Arts and crafts can be found at the Sangweni Tourism Centre in Bal­lito, African Art Centre in Florida Road, Durban, the KwaZulu-Natal Society of Arts in Glenwood, the Art Centre in Umhlanga and the African Art Centre in St Lucia. Some of his works also go to outlets in Midrand, the Western Cape and Port Elizabeth.