Written by Mbulelo Baloyi
Presidential Hotline
Removed from the attention of the media spotlight, the Presidential Hotline continues to be a source of hope for many South Africans and non-South Africans alike in their day-to-day dealing with the different levels of government.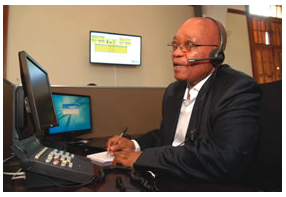 The Presidential Hotline has been in operation for only 18 months, but has already proved to be a successful demonstration of what government meant when it said it wanted to do things differently and smarter.
The Presidential Hotline changed the widely-held public perception of government services. Many people who have benefited after contacting the hotline have praised the efficient way in which it has helped to solve their problems.
School
Early this year, a Congolese widow, Noella Kazadi asked the Presidential Hotline to help secure places for her two children at a Cape Town primary school.
Kazadi came to South Africa in December last year after the death of her husband. She stayed with relatives in Heathfield, Cape Town.  Because the children, a 10-year old boy and a 12-year old girl, speak French, none of the schools in the area could accommodate them as the medium of instruction in most schools is English.
On 26 January, the family approached the Presidential Hotline for help. The Hotline asked Heathfield Primary School Principal, Mr Andre Pretorius to admit the children and they started school on Monday 31 January 2011. The Kazadi family is very grateful that the hotline helped to solve their problem within only three days.  The 10-year old boy, Jay Shutcha, wrote a letter to thank President Zuma for what the President had done for him and his sister.
Happy again
"When my mother told me we were going to South Africa, I was very sad," he wrote. "When we arrived in Cape Town, my mother and my uncle told me that it was too late to be paced in a school. I was crying everyday and my mother too. Then my uncle said we are going to ask Mr Zuma the President to do something. I did not believe in it as I do not believe in Father Christmas. But today I am happy again and I am happy to be in South Africa," wrote the Congolese boy.
University student
The Presidential Hotline also helped secure accommodation and tuition fees for an Analytical Chemistry student at teh Cape Peninsula University of Technology, Onke Tomose. He used to walk eight kilometres from his shack situated in an informal settlement to the university.
Many people who have benefited after contacting the hotline have praised the efficient way in which it has helped to solve their problems.
Tomose is originally from Idutywa in the Eastern Cape. He registered for the National Diploma in Analytical Chemistry from his savings from the time he worked at a margarine factory. Both his parents are old and unemployed.
Tomose's lecturer, Dr BJ Ximba realised that  he didn't get financial assistance and accommodation. Dr Ximba approached the Hotline. Ms Dudu Fakudze, the Director of the Public Liaison Unit under which the Presidential Hotline falls, then approached two prominent black businesswomen, Mrs Manana Nhlanhla and Mrs Hixonia Nyasulu for financial assistance.
The two businesswomen responded positively and provided financial assistance to Tomose.  The National Student Financial Aid Scheme (NSFAS) is now paying fees for tuition and accommodation on campus for Tomose.
Evicted family
A Pretoria resident, Ms Saroj Govender, who was one of the first citizens to ask for help when the Hotline was started is all smiles today.
In 2006, Govender and her family was evicted from their home under unclear conditions at Hercules in Pretoria where they were living with their seven-year old son. After they were evicted, they approached government departments for help, but they were sent from pillar to post with promises of help never being honoured.
When they heard about the Presidential Hotline, they saw it as the only solution to their three years of suffering with nowhere to stay. It took the hotline's  persuasive methods of getting responses from the government departments and to get them to deliver on the promises previously made.
The Presidential Hotline made provisional arrangements in terms of shelter and food as the need arose and constantly gave emotional support. The family has now received a home on some land which is used for farming.
Hope
The cases above are only some of the many that show how the hotline has brought hope to many people who tried to get help without  success.
Hotline number: 17737 (1 PRES)
Fax: 086 681 0987/ 012 323 8246
E-mail: president@po.gov.za