Know your Minister
"We need to work together as various spheres of government, civil society, research institutions and development partners towards the realisation of the rights of all our children. As a department, we will do our part to ensure that these engagements take place regularly and that they guide our country on issues of children's rights," said Minister Lulu Xingwana at a meeting of the National Children's Rights Advisory Council held in Pretoria recently.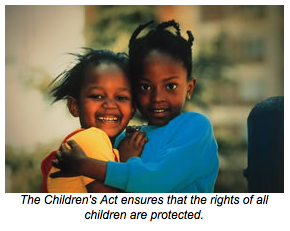 Government has undertaken to work with non-governmental organisations to promote children's rights and end child labour practices. Women, Children and People with Disabilities Minister Lulu Xingwana made this commitment during her keynote address at a recent meeting of the National Children's Rights Advisory Council in Pretoria.
Minister Xingwana said in terms of the Basic Conditions of Employment Act it is a criminal offence to employ a child younger than 15 years. Children aged 15 to 18 years may also not be employed to do work not suitable for their ages or work that would put them at risk.
Children's Act
United Nations agencies, children's rights groups and other organisations involved in children's right also attended the National Children's Rights Advisory Council.
During the meeting, Minister Xingwana reported on the progress made in implementing the Children's Act and Child Justice Act. These two Acts came into operation last year and they are aimed at protecting the rights of children in South Africa.
The Children's Act provides for the protection of different rights of children. The purpose of the Child Justice Act, among others, is to provide better ways of dealing with children in conflict with the law.
Agricultural sector
Minister Xingwana noted that most child labour practises take place in the agricultural sector. "Most of these children work as unpaid family members," she said.
She said the department needed the co-operation of the communities to report cases of child labour to the authorities.
Migrant children
Projects that the department has been involved in include the plight of unaccompanied migrant children in the Musina area near South Africa's Beitbridge border post with Zimbabwe.
The project is funded by the Italian government. The non-governmental organisation, Save the Children, also supports the project by helping to protect the children.
The project ensured that unaccompanied migrant children were registered and had access to temporary shelter.
It also ensured that the children received support and advice on how they could return to their countries of origin and re-unite with their families.