More than half of the crime incidents in South Africa take place in Gauteng. It is therefore fitting that more resources to tackle the crime challenge are made available to police in this province.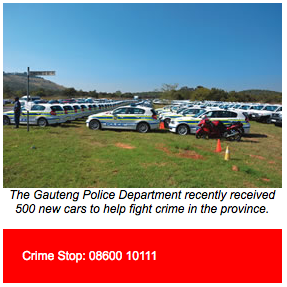 National Police Commissioner General Bheki Cele handed over more than 500 vehicles to Gauteng Police Commissioner Lieutenant-General Mzwandile Petros.
The hand-over ceremony was held at the Fountains Circle in Pretoria earlier this month and was attended by senior police officers.
Police visibility
General Cele said Gauteng was the province worst affected by crime but, with increased police visibility, the situation could be turned around.
In line with government's focus on five key priorities, which include fighting crime, Cele said government wants to make sure that police did not have the excuse of not having cars when asked to help members of the public.
The 500 cars include top of the range high performance vehicles, as well as all-wheel drive vehicles for use by officers policing rural areas.
The vehicles will form part of the Gauteng Rural Safety Strategy as announced by Police Minister Nathi Mthethwa earlier this year during his meeting with farmers' organisations.
Vehicle tracking
According to Cele, 67 of the new vehicles will be used solely for rural flying squad units in addition to the vehicles used for sector policing. Cele said police had an undertaking from the motor dealerships that the vehicles would receive priority during repairs to prevent police operations being delayed.
To prevent police from abusing vehicles, all the vehicles will be fitted with tracking devices to monitor their movements.
Other provinces
The Police Department spent a total of R135 million to buy the 500 vehicles.  So far, 800 vehicles have been handed over to Gauteng police during the 2010/2011 financial year.
In January this year, Cele also handed over 300 vehicles including flying squad cars and unmarked vehicles for the detective services at a ceremony held in Hillbrow in Johannesburg.
About R1.1 billion has been reserved in the 2011/2012 financial year budget to buy new vehicles in other provinces as well.
Farming community
The farming community in Gauteng, which has become frustrated with the high incidence of crime aimed at its members, said it welcomed and supported this initiative. Community members said they hoped that the increase in vehicles would make a major contribution towards preventing crime in the province