It has been a case of "sweet returns" for a KwaZulu-Natal North Coast farmer who ensured that his investment in a sugar cane farming business did not leave a bitter taste in the mouth. Although Joseph Mbuyazi only started leasing 187 hectares of land about three years ago, his Big Cedar Trading 250 sugar-cane farming business is growing rapidly.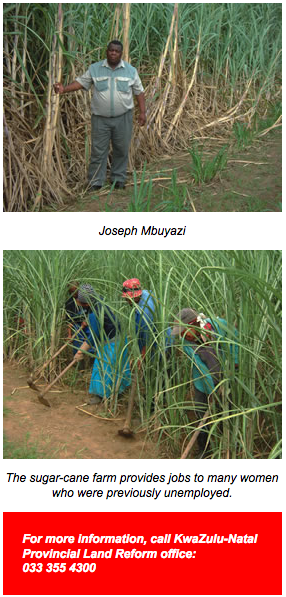 Mbuyazi grows sugar cane in the Monzi area near Mtubatuba outside St Lucia on the KwaZulu-Natal North Coast. Before he started leasing the present sugar cane farms, the 54-year old Khula Village resident had been a subsistence communal sugar cane farmer for more than 19 years.
Success
"It is thanks to the Proactive Land Acquisition Strategy (PLAS) of the Rural Development and Land Reform Department that we have become successful farmers," said Mbuyazi. Through the PLAS programme, the department bought the farm where Mbuyazi and nine other farmers worked in October 2008.
Loan
"I started in October 2008, but had to understudy the previous commercial owner during the harvesting period until December 2008. In 2009, I took control of the farm. I re-hired 36 farm workers," he said.
"Most of the farms were lying bare and were unproductive. When I took over the farm it had eight farm workers' compounds. I approached Ithala Development Finance Institution for a loan of R1,5 million and built 62 houses and workshops. I also bought implements and fertilizers, a Bell Loader, five tractors and seven trailers for crop production and transporting of sugar cane."
Cane growers
Some of the previous commercial owners made offers to manage the farms, but the beneficiaries wanted to prove that they could do it on their own without mentoring. "I have been meeting my target of producing 18 000 tonnes per each harvest season," Mbuyazi said proudly.
The Cane Growers Association and other stakeholders give ongoing support to ensure that they don't fail.
The PLAS programme helps individuals, as well as groups that form a legal entity. It focuses on making sure that land bought by the State for land reform is used productively to ensure national food security.
Development
Government started PLAS to increase land redistribution and to ensure that the Department of Rural Development and Land Reform acquires land in those areas that had been identified for development and job creation.
With the pro-active strategy the department leases farms to emergent black farmers for a minimum of three years. After the three-year lease period, the department gives the land to the farmers if the department finds that they have acquired the knowledge to farm the land productively.
As part of the loan agreement with the department, the beneficiaries pay six per cent of the total buying price as rent for three years.