Written by Mbulelo Baloyi
Thanks to the Department of Rural Development and Land Reform, as well as good neighbourliness and a willingness to learn, a group of former farm workers in Limpopo became successful cucumber farmers and their business is still growing.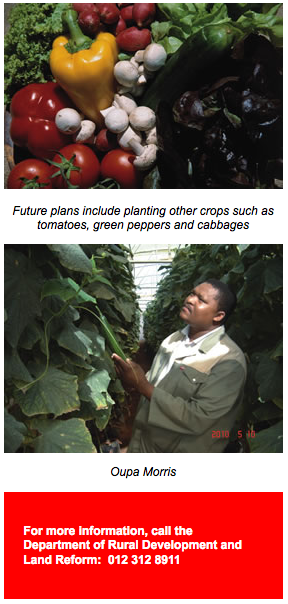 With the profits from the sales of cucumber, more than 16 former farm workers are able to support their families. This is possible thanks to government buying them the cucumber farm situated on 87 hectares of land.
Land reform
The Department of Rural Development and Land Reform bought Xantium Farmers Trust at Doornfontein outside Modimolle (formerly Nylstroom) in Limpopo on behalf of the 16 present owners.
Managing Director, Mr Oupa Morris, said he and nine other workers used to work for the previous owner Mr Jan de Beer, who decided to sell the farm because of old age. They were given first preference to buy and approached the Limpopo Provincial Land Reform Office. The farm was then bought for R3, 6 million.
Tricky business
At the time of sale in October 2009, the farm had about 24 greenhouses or hydroponic tunnels where the cucumbers were grown. The new owners have since added six more hydroponic tunnels.
Each 10 metre by 30-metre tunnel houses about 720 cucumber seedlings. There are plans to increase the greenhouses to about 50 tunnels to enter the export market.
"Cucumber farming is a tricky business," said Morris. "You must be on the farm 24 hours a day and there are many insects and diseases. Basically, every plant has to be nurtured like a baby," he said jokingly.
Full-time workers
The majority of the owners of the cucumber farm are women. The number of full-time workers increased from the original 10 former farm workers to 16.
During harvesting, an extra 10 people are hired to assist with harvesting and packing. The farm also boasts its own borehole, a one-ton delivery bakkie and two tractors.
The delivery bakkie and the two tractors were bought from the profits they made after buying the farm.
Support from neighbours
Morris said the success of the cucumber farm his largely due to determination, and willingness to learn from neighbouring commercial farmers.
"The previous owner, De Beer, was very helpful when we were looking for funding to buy the farm. He also helped to identify the markets where we could sell our produce," said Morris. "In fact, all the neighbouring commercial farmers have been supportive since we bought the farm.
Future plans
Other than supplying the Johannesburg Fresh Produce Market, they also supply a fruit and vegetable outlet in Bela Bela  weekly with about 30 to 40 crates containing 30 cucumbers each.
Future plans include planting other crops such as tomatoes, green peppers and cabbages.