Written by Mbulelo Baloyi
Sport and Recreation
To ensure that learners get a balanced education by developing both their physical and creative abilities, physical education will be re-introduced as a stand-alone subject in schools.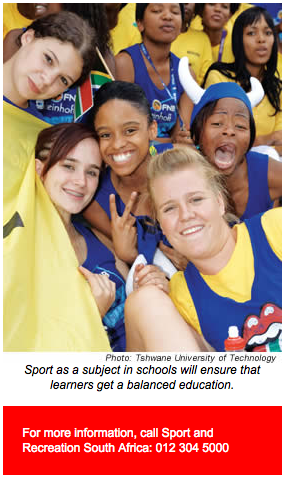 Government believes that the re-introduction of physical education will lead to well-rounded young people who become better citizens. It will also be supportive of the 1GOAL campaign. 1GOAL was launched in 2009 to "seize the power of football". The aim was to ensure that education for all was a lasting legacy of the 2010 World Cup.
Better citizens
During a three-day South African Sport and Recreation Conference held in Durban in August last year, it was noted that the re-introduction of physical education as a subject in schools would lead to better citizens.
In addition, the conference also noted that if learners became involved in sports at school, sport federations and community clubs would have a steady and constant supply of quality athletes.
Government will re-introduce it as a stand-alone subject with its own dedicated time. Some provinces have already started re-introducing physical education as a subject this year. During the State of the Province Address in February, Gauteng Premier Nomvula Mokonyane said that quality education did not only refer to young people who could read, write and think on their feet, it also included the development of the learners' physical well-being.
Sports days
Starting this month, Wednesday afternoons will be sports days in all public schools in Gauteng. A Gauteng schools sports tournament will also be launched with the help of the provincial departments of education, sports, arts, culture and recreation. "We will increase the involvement of schools in the School Sport Mass Participation Programme from 350 to 470 in April this year," said Mokonyane.
Mass participation
The re-introduction of Physical Education as a stand-alone subject requires certain basic requirements such as trained physical education teacher.
The participation of women is another important issue that will be addressed within sport circles in line with government's policy of empowering women.