Winning letter - Crime is our nightmare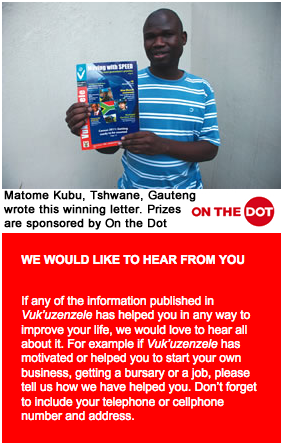 Crime is one of the greatest nightmares our nation faces every day. It's sad that most of us turn a blind eye on incidents of crime. But ignoring crime only lasts until you or your loved ones become the victims of crime.
Fighting crime needs our collective efforts. The authorities keep saying that crime is decreasing, but to us on the ground it's getting out of hand. We are no longer safe even in our homes. That is why we must blow the whistle when we see a crime incident.
If we fold our arms, we are only nurturing crime. By protecting each other and each other's properties we will be working towards a crime-free society. –
- Matome Kubu, Tshwane, Gauteng
Respect is earned
Respect is not about material things; it is a two-way thing. When you show respect to other people, you will get respect – you give and you get. When you show respect, people will be willing to help you when you are in trouble. Respect opens doors for you, it helps you to network and make more friends.
– Thando Dinge, Port Elizabeth, Eastern Cape
Create your own jobs
Instead of always pointing fingers, we should be part of the solutions. We all want decent jobs, but who must provide those jobs? We can't expect government to do everything for us, so let's all contribute to the economy by creating our own job opportunities. Waiting for government will not help if you're not willing to get up and do things for yourself.
– Brian, Julesburg, Limpopo
Apply your knowledge
It is not the amount of knowledge you have that will uplift you, but how you apply the knowledge. It's sad to see university, and college graduates doing nothing with their lives, because they can't find jobs. Employment is not the only crucial factor for success. I would like to advise all unemployed graduates to use their skills, start a business, work hard; anything is possible if you really put your mind to it.
– Samkele Masondo, Newcastle, KwaZulu-Natal
You helped me to learn
It's not easy to survive in a new environment where everything is unfamiliar – school, teachers, neighbours and friends. The most difficult thing is learning a new language. I'm a Pedi girl from Limpopo who moved with my family to North West. I had to change from Sepedi to Setswana. With the help of Vuk'uzenzele, I learned it easily by reading the Setswana edition of the magazine. In matric I received an award for being the best learner in Setswana language. In my final exam I passed Setswana with a B symbol thanks to Vuk'uzenzele.
– Lerato Tladi, Mphahlele, Limpopo
Send your letters to:
Vuk'uzenzele, Private Bag X745, Pretoria, 0001, or e-mail: vukuzenzele@gcis.gov.za.
If you don't want your real name published you may use a different name, but please include your real name and address.
Please note:
To win a prize you must include a physical address and a contact telephone number.
Prizes that re not claimed within 90 days of publication, will be forfeited.