More than six million South Africans have been tested so far during the HIV Counselling and Testing (HCT) campaign. The campaign was launched by President Jacob Zuma in April last year. Its main aim is to promote HIV counselling and testing by encouraging all South Africans to know their status and to be screened for HIV, as well as TB. The goal is to test 15 million people by June this year.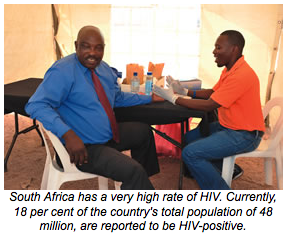 The HCT campaign forms part of government's new and improved HIV and AIDS prevention and treatment plan. President Jacob Zuma not only made a call to all South Africans to know their HIV status, but  had himself tested as well.
The campaign encourages people to continue getting tested, even after the campaign has ended.
Prevention
The main objectives of the new improved  prevention plan are to substantially reduce the rate of infection and to provide ARV treatment to at least 80 percent of those who need it.
The new plan prioritises prevention through information, education, widespread distribution of condoms and mobilisation of millions of South Africans to know their status. Since the launch of the HCT campaign, employees at The Presidency and various other government departments have also been tested.
Mobile HCT services were rolled out at many hostels, clinics, shopping malls, informal settlements, taxi ranks and community gatherings, as well as rural areas with limited access to health facilities. The testing included screening for other health conditions such as high blood pressure and diabetes.
Farms and villages
This year, the campaign extended its testing to universities. It will eventually be rolled out at schools, farms and villages, as well as major factories and industries like mining.
Joining in the testing campaign, more than 2 000 workers at the Eskom Medupi Power station in Lephalale, Limpopo underwent testing in March.
The three-day testing campaign was a partnership between the Department of Health, the construction company Murray and Roberts and Eskom.
Circumcision
Other preventative measures have also been put into place, including widespread condom distribution, male medical circumcision and early treatment of sexually transmitted infections (STIs).
Male medical circumcision is an effective way of preventing the spread of HIV. Last year, all nine provinces promoted and conducted male medical circumcision, with KwaZulu-Natal taking the lead. Since the launch in April last year, the department has conducted 17 000 circumcisions. The circumcision campaign also focuses on counselling of young men. They are educated and informed about traditional advice, as well as HIV and AIDS and on male and female sexuality.
Condoms
As a further measure to curb the disease, the Health Department has increased access to condoms. By the end of December last year, it distrubted almost 500 million male, as well as female condoms.
The department is also developing a policy for school-based HIV testing. South Africa has almost 12 million learners in more than 6 000 high schools. If all learners from the age of 12 were to be tested for HIV, the department would far exceed its target of testing 15 million South Africans by June.