Written by Samona Murugan
For many creative young South Africans, cooking is not only a hobby but a passion. For them, creating a mouth-watering dish is more than just cooking; it is a form of art. A group of 800 students are now getting a chance of a lifetime to realise their cooking passion and become qualified chefs. This is thanks to the National Department of Tourism's new National Youth Chefs' Training Programme in partnership with the South African Chef's Association.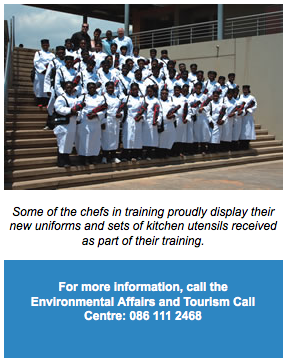 In line with government's growth path, which is addressing unemployement, the tourism sector aims to create 225 000 jobs by 2015.
This will aso help to relieve the shortage of skilled chefs  with the Department of Tourism's chefs' training programme. In partnership with the South African Chefs' Association, the department will train 800 young chefs between the ages of 18 and 35 to become professional chefs.
Students must have a matric qualification, be unemployed and have a passion for cooking and the hospitality industry. R25 million will be invested into the new programme this year, with a further R5 million budgeted over the remainder of the programme.
Growth path
Tourism is one of the key drivers of economic growth in South Africa. It is also an important element of government's growth path, which is aimed at addressing unemployment, inequality and poverty.
The overall target of the growth path is to increase employment by 5 million jobs by 2020. This will reduce unemployment by 10 per cent.
According to Tourism Minister Marthinus van Schalkwyk, the chef's training progeamme covers a number of elements that are of particular importance to the continued growth and success of the tourism sector in South Africa.
Professional chefs
The project will be funded through the Expanded Public Works Programme (EPWP) initiatives. The programme will train students in all nine provinces from 2011 to 2013.
First phase
In the first phase of the project, the beneficiaries will be trained in the National Certificate of Professional Cookery, NQF 4. This qualification is recognised by all cookery and food-related sectors.
Second phase
In the second phase, students will receive training for a National Diploma of Professional Cookery, NQF 5. Thereafter, they will be placed with different hospitality establishments for an extensive training programme.  On fulfilling all the requirements of the programme, the trainees will be registered as professional chefs by the South African Chefs' Association.
Provinces
The number of students per province was influenced by provincial demand, the availability of training providers and the availability of placement for experiential learning.
The following number of students will be trained per province: Gauteng - 230, Limpopo - 30, Mpumalanga - 30, Northern Cape - 30, Eastern Cape - 60, Western Cape - 180, Kwazulu-Natal - 80, North West - 30 and Free State - 30.