Kha Ri Gude, which means "Let us Learn" in Tshivenda, is a mass literacy programme. It is aimed at teaching illiterate people older than 15 years to read, write and calculate in their mother tongues in line with the Unit Standards for ABET level 1. It also teaches them to speak English. Lessons are offered in all nine provinces and are available in all the official languages. They are also available in Braille and have been adapted for the deaf.
Themes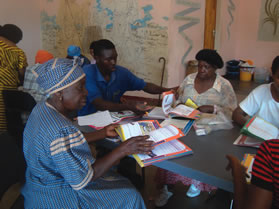 Different themes and life skills such as health, gender, the environment and education are integrated into the lessons.
Kha Ri Gude classes are free and available to adults who have little or no education. Learners are required to attend classes for 240 hours. Classes are offered in communities, at times which suit the learners. They are held in homes, churches, community centres and even at prisons.
Targets
When the Kha Ri Gude literacy campaign was first launched in 2008, the rate of illiteracy in the country was estimated at 4,7 million. The targets of the campaign for 2008, 2009 and 2010 were to teach 360 000, 613 643 and 610 850 learners respectively. The campaign has had completion rates of over 90 per cent over these three years.
Workshops for co-ordinators will begin in April and Kha Ri Gude classes will start on 1 June.
For more information contact the Kha Ri Gude Call Centre: 0800 20 29 33 or visit www.kharigude.co.za or call the Department of Basic Education: 012 357 3000.