Written by Edwin Tshivhidzo
Community Members of Thaba Nchu in the Free State, are enjoying the benefits of the Expanded Public Works Programme (EPWP).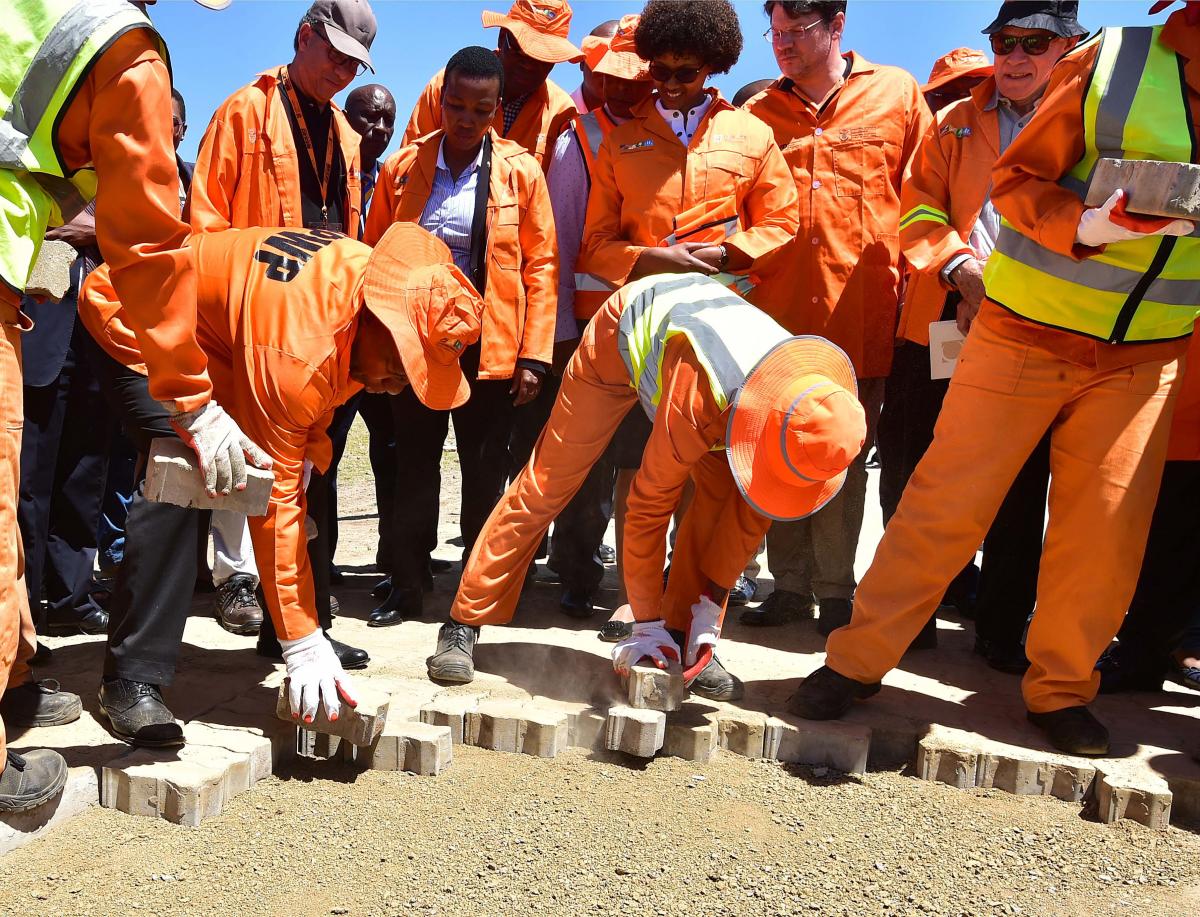 Deputy President Cyril Ramaphosa says he is impressed with how the EPWP is improving the lives of these residents.
The skills being imparted to local community members, as well as the stipend they earn, are helping them live a better life.
"Government is touching the lives of our people, and we are very impressed with that," he said when addressing residents after visiting various EPWP projects in the province.
The Deputy President confirmed that the EPWP is one of government's flagship programmes.
It is aimed at providing income relief through temporary work for the unemployed, and provides an important avenue for labour absorption and income transfers to poor households, in the short- to medium-term.
Accompanied by cabinet ministers, the Deputy President visited the Thaba Nchu Bus Route Project and the Thaba Nchu Ratlou Complex.
The Deputy President and the Minister of Labour, Mildred Oliphant, were briefed about the construction of a road where EPWP participants are laying bricks.
"This is what our people need − to be taught [how to do it] and thereafter they can do it on their own," he said.
Project Manager Feziwe Mbube said the project has employed 56 people and that all of them are from the local community.
"Most of them came here with no experience, they learnt how to pave while working here," she said.
 The project started in July and it is hoped that it will be completed by December.
The EPWP employs workers – government, contractors or non-governmental organisations – on a temporary or ongoing basis, under the Ministerial Conditions of Employment or learnership employment conditions.
Since the 2012/13 financial year, the EPWP has created 4 185 426 work opportunities, and has a target of an additional 4 205 730 by the end of 2018/19.
"In our country we have [many] people who are not working. Our government is doing something through the EPWP to help our people… People are now able to put food on the table for their families," the Deputy President said.
He encouraged EPWP participants to continue to work hard so that they can gain skills and reduce poverty in their communities.
Oratile Rasebonang (38), one of the EPWP participants, said he started working on the project in August and that he is happy that he can now pave bricks.
"When I started working on the project I knew nothing about paving, but now I can do it without any difficulties," he said.
Participants in the project receive a stipend of R2 070 a month.
EPWP participant Vincent Xhashembe said that apart from the experience he is getting, he is happy to be receiving a stipend that enables him to support his family.
"I am happy that I am now able to support my family. I am happy with what our government is doing for us," he said.
The Deputy President also visited a complex where buildings are being renovated by EPWP participants from the local community.