Written by Hlengiwe Ngobese
An annual speech competition supported by KwaZulu-Natal provincial treasury is aimed at developing good financial habits in youngsters' formative years.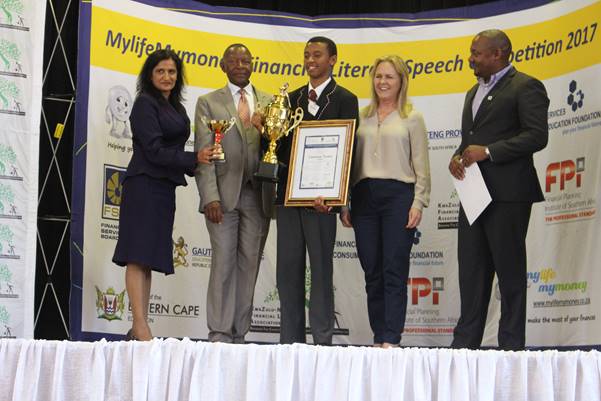 The future is bright for Lindokuhle Dlamini, a Grade 11 pupil at Little Flower Combined School in the Harry Gwala District Municipality of KwaZulu-Natal. Dlamini was the overall winner of the 2017 KwaZulu-Natal Financial Literacy Association (KZN FLA) Trust Grade 11 Speech Contest.
He beat 11 contestants and won a bursary that will help him study towards a degree in financial planning.
The learners who came second and third walked away with financial planning software and an investment of R5 000 and R1 000 respectively. In addition, the winners and their families will receive investment advice from a certified financial planner from the Financial Planning Institute.
All finalists received tablets with data and data projectors for their schools.
The objective of the annual speech contest is to equip young people with financial knowledge to help them build a solid foundation for their future. It aims to encourage careers in finance, entrepreneurship and financial planning in particular. This helps to promote financial literacy in schools and creates awareness of consumer rights and available support systems.
The KZN FLA Trust has been given a mandate by provincial treasury to run financial literacy programmes in the province and ensure that the residents of KwaZulu-Natal make rational financial decisions.
Dlamini expressed his joy at winning the competition.
"I always wondered what I was going to do after matric because I knew there was no one at home who could afford to pay for my tertiary education," he said.
KZN FLA Trust Chairman, Artwell Hlengwa, said he would like to see more financial planning in all spheres of government.
"This is one way we want to build leaders of our country and produce responsible leaders who will be debt-free and make sound financial decisions," he said.
Learners had to compete at class level up to district level. The speech contest is driven by relevant subject advisers and teachers at participating schools. The winner and first runner-up will proceed to the inter-provincial finals, which will be held in Gauteng.