Young scientists want to be actively involved creating solutions to some of society's major problems through science, technology and innovation.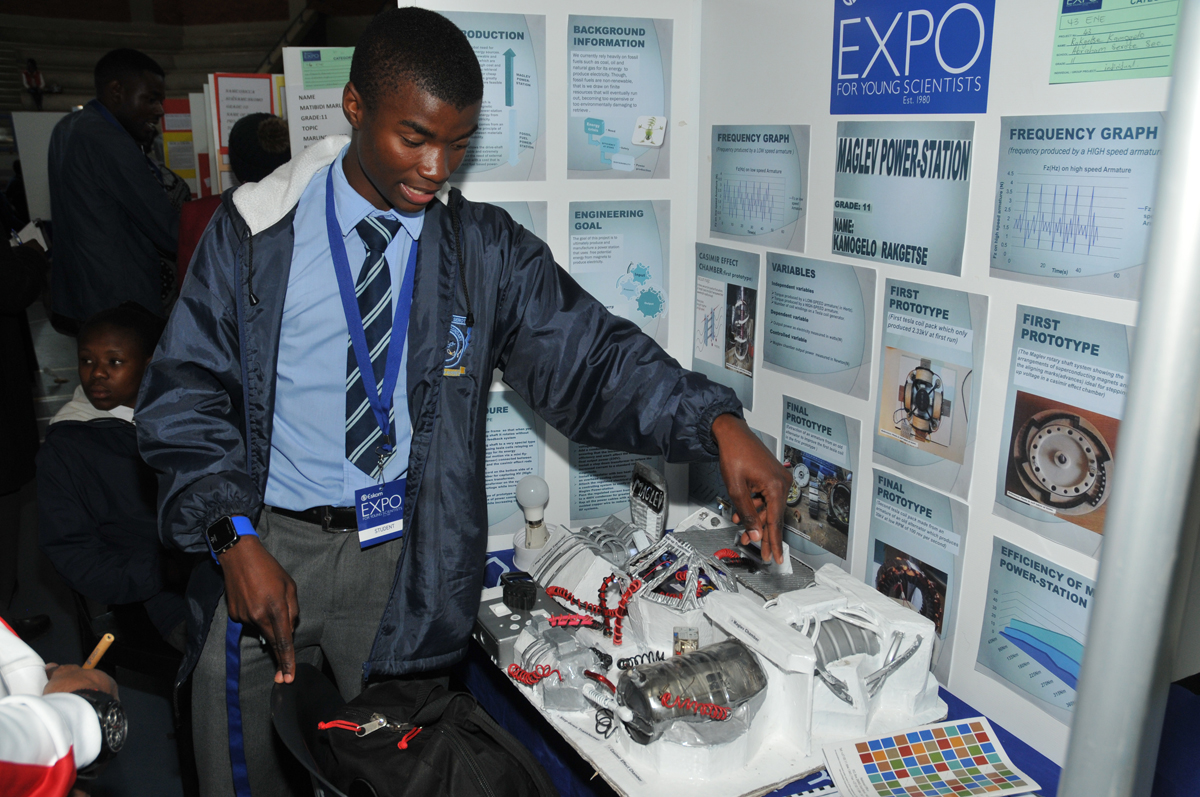 Kamogelo Rakgetse, a Grade 11 learner at Abraham Serote Secondary School in Tafelkop, Limpopo, has built a model of a magnetic power station that is able to produce electricity using free potential energy from magnets.
Rakgetse said his design, the Maglev Power Station (derived from 'magnetic levitation'), originates from an application exploiting the principle of magnetic induction between materials with different permeability.
"The technology allows the drive shaft to levitate in a stable and safe way, without the need for external power and at a cost that is lower than fossil fuel-generated power," he said.
His idea was sparked by the current over-reliance on fossil fuels such as coal and oil to produce electricity.
"These are finite resources that will eventually run out and become too expensive financially and environmentally to retrieve. I want to offer an alternative and eco-friendly power source," he said.
Caroline Boshoff is a Grade 9 pupil at the Port Elizabeth-based Cape Recife School for learners with special needs. She has epilepsy which means she struggles with her school work and finds it difficult to read and write. Despite this, Boshoff loves science and that her research can be done practically rather than theoretically. She has created a programme to establish the learning difficulties of children with disabilities and develop tools to help them.
"I believe that every child can be successful. We just need the right foundation and the right opportunities," she said.
Boshoff conducted a survey among learners from economically privileged and underprivileged groups, and those living with disabilities. Her findings showed that children from underprivileged backgrounds, and especially those with disabilities, struggled and took longer to reach their developmental milestones.
Her programme is called Sakha Isizwe Ngemfundo (building the nation through education) and it includes amongst other tools (all in English, Afrikaans and isiXhosa) a workbook for the children, a parent/teacher instruction manual, an educational games CD and a range of educational toys.
Boshoff and Rakgetse were amongst the 611 finalists of the Eskom Expo International Science Fair held recently.
The Minister of Science and Technology, Naledi Pandor,  said at the event: "You all remind me of the late OR Tambo, who would've celebrated his 100th birthday this year. As an avid student and teacher of mathematics and science, Tambo would've been proud today. You demonstrate that our nation can and will be a great achiever in science and technology."