Written by Nonkululeko Mathebula
A series of commemorative coins will help preserve South Africa's heritage and pride.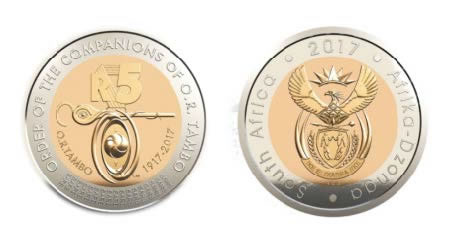 As the country celebrates the birth centenary of global icon OR Tambo, the South African Reserve Bank (SARB) has launched a new R5 circulation coin in his honour.
The coin – commemorating his birth – is part of a series of four new commemorative coins honouring the late struggle stalwart. The other three are collectable special edition coins and cannot be circulated.
Launched at the OR Tambo Cultural Precinct in Benoni, east of Johannesburg recently, the coins highlight the role that Tambo played in securing a democratic South Africa.
Speaking at the launch, SARB Governor, Lesetja Kganyago, said the coins honour the role played by Tambo in defeating apartheid.
"The coins which have been launched carry integrity and will carry the legacy of the late Oliver Tambo forward.
"Tambo's conduct was one of integrity, trust and accountability and these matter a great deal to the SARB," said Kganyago.
The back of the general circulation coin features a neck badge and walking stick, while the obverse depicts the national coat of arms, year of issue and 'South Africa' written in English and Xitsonga.
The collectable coins are not redeemable at banks and cannot be used to purchase products or services, while the general circulation coins are worth their face value only and should be used rather than preserved, to allow as many South Africans as possible to experience their beauty.
Oliver Tambo's son, Dali Tambo, said that his family feels honoured by the move.
"The coins that the Reserve Bank and the South African Mint have produced are not only beautiful but are a platform of heritage. They are a platform of remembrance and an expression of the commitment to the values and ideals that my father stood for.
"My hope is that you will do many more and that we'll soon see coins depicting Chris Hani and so many others who played a massive role. My father would have liked that," said Tambo.
Oliver Tambo was born on 27 October 1917 and was an anti-apartheid activist who served as a president of the ANC. He died in 1993.